Photo Gallery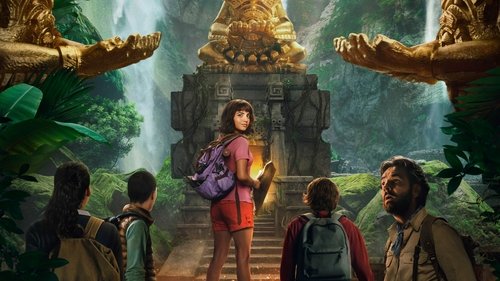 Sunday funday with the littles!
Great morning at the premiere of 'Dora And The Lost City Of Gold' with these cute munchkins ❤✌?? - - - - - - - - #dora #premier #film
#nickelodeonusa #nickelodeonus #nickelodeon #doratheexplorer #nickjunior #nickjr #2019 #2010s #2010er
Ok.... This Film was Descent #AvengersEndgame⁠ #Avengers #Endgame #mcu #marvelcinematicuniverse #marvel #MarvelStudios #Marvel #IronMan #CaptainAmerica #Thor #BlackWidow #Hawkeye #Ronin #Hulk #AntMan #WarMachine #Nebula #Rocket #CaptainMarvel #Thanos⁠ #doraandthelostcityofgold
#dora #doratheexplorer #hollyweird #pedogate #pizzagate #pedogateisreal #pizzagateisreal #hellywood #hollywoodisevil #hollywood
Happy Sunday everybody! ??? Get ready for some hilarious scenes in Dora and the Lost City of Gold in TGV Cinemas this 8th August. Tickets available soon! - Sam #TGVCinemas #TGV #DoraAndTheLostCityOfGold #DoraMovie #DoraMovieMY
Follow the trail to the treasure-trove #London Multimedia Screening of #DoraMovie. #DoraandtheLostCityofGold @paramountuk @paramountpics @doramovie #ShowbizReport #MarvinNolasco #Pinoy #EntertainmentNews #Entertainment #News #Interview #Screening #Hollywood #International #Showbiz #Film #TV #Digital #Movie #Cinema #SocialMedia #Social #Blog #Blogger #Vlog #Vlogger #Interviewer #Influencer
Hola! Soy Dora. We watched the @doramovie & it was everything I expected AND more! @isabelamoner played the perfect Dora. No seriously. Omg she was soooooo good!?Nia had a fangirl moment with her.lol! @mvegapena was hilarious of course! He made me cry-laugh during the movie?We met the cast including Diego @jeffwahlbrg who we learned has a twin sister!? And @evalongoria is a gem! I wanted her whole outfit.lol. You gotta go watch the #DoraMovie ?Comes out next Friday, August 9th?2 Thumbs Up????
Swiper no swiping!! I had so much fun tonight at the @doramovie premiere!??Thank you @nickelodeon for this amazing opportunity. #blessedandthankful
One of the rare @doramovie posters that feature my daughters and me. ??? We went to a screening of the film this weekend and my review is on the blog (link in bio). #pressinvite #doramovie
During @MadFlavorTV interview with @IsabelaMoner and @EDerbez for #DoraAndTheLostCityOfGold, she explains why Dora The Explorer and the movie "Dora and the Lost City of Gold" is so important to Latinos and Hollywood #Latino #MadFlavorTV read The Wakanda Revolution in Film and Television http://madflavortv.com/2019/07/wakanda-forever/
If adventure is what you desire, then we've got you covered!! Through rivers runs and mountain tops, get set to rediscover the Lost City with Dora! #DoraAndTheLostCityOfGold #3daysto go #Releasing9thAugust
They all open this Friday! #thekitchenmovie #theartofracingintherain #scarystoriestotellinthedark ????
#tbt Jace & Isabela ? @jacenorman & @isabelamoner at Breanna Yde's 13th Birthday Party in 2016! ?
Are you lost Dora? ? ⏳ Photo from Dora and The Lost City of Gold #Dora #DoraAndTheLostCityOfGold #DoraTheExplorer
A spatula in your backpack? That's a new one ??? #doramovie
#DoraandtheLostCityofGold v. Their animated counterparts.
Coming this Friday 8/9 to Prairie Cinema! DORA & THE LOST CITY OF GOLD, THE KITCHEN, SCARY STORIES TO TELL IN THE DARK! Three new movies!!! For showtimes visit our website. www.prairiecinema.com #love #movies #thekitchenmovie #scarystoriestotellinthedark #prairieduchien
Schulz-inspired Dora doodle. Markers and colored pencil on 2.5x2.5" Bristol card. #doratheexplorer #dora #nickelodeon #nickjr #nick #peanuts #schulz #animation #cartoon #illustration #doodle #kidlitart #traditionalart
NEW LINE-UP!!! . . Here is the movie schedule for the week of FRIDAY AUG 9 - THURSDAY AUG 15. . . DORA AND THE LOST CITY OF GOLD (G) Fri & Sat 7:00 & 9:30 Sun – Thurs 7:30 Fri, Sat, Sun & Wed 2:00. . THE FAST & FURIOUS PRESENT: HOBBS & SHAW (PG) Fri & Sat 7:00 & 9:30 Sun – Thurs 7:30 Fri, Sat, Sun & Wed 2:00. . THE LION KING (PG) Fri & Sat 7:00 & 9:30 Sun – Thurs 7:30 Fri, Sat, Sun & Wed 2:00. . . . Our Toonie Morning Shows this week is: . Monday August 12 - Thursday Aug 15 . MISSING LINK (G) . Doors open at 9:30 am show starts at 10:00 am. All tickets just $2.00. . . . #centurycinemas #downtownlindsay #kawarthalakes #lindsayontario #supportthelocals #tooniemorningshows #doraandthelostcityofgold #hobbsandshaw #lionking #missinglink
#repost @notspicyenough ? ・・・ NEW SKETCH OUT NOW ? ? @doramovie comes out tomorrow but you can get an exclusive look at this deleted scene RIGHT NOW! ?
The live action high school version of Dora is out any day now. We try to figure out why. https://www.filmsfatale.com/blog/2019/8/7/dora-and-the-search-for-a-demographic #dora #doratheexplorer #nickelodeon
Thanks to @paramountpics for the collaboration @doramovie new live action ..... It was a great movie, comedy and adventure in the same time!! We really enjoy it!! great job @apriyg96 and @himecamui !! #doratheexplorer #nickolodeon #movienight
Movies are incomplete without scrumptious munchies. Get on board with Dora, as she finds the lost city of Gold with the many food options available at #WaveCinemas. #DoraAndTheLostCityOfGold
@isabelamoner #isabelamoner #doratheexplorer @doramovie #sicariodayofthesoldado #instantfamily #cjmartin #nickelodeon #100things #newyork #transformersthelastknight #doramovie #doraylaciudadperdida #sicario2
Be the first to see #ScaryStoriesToTellInTheDark, #TheArtofRacingintheRain, and #DoraandtheLostCityofGold tomorrow night! Get showtimes and tickets now by downloading the GQT App or visit gqtmovies.com
Movie time Premiere Screening #DoraAndTheLostCityOfGold
Revenge of the parents time ? Dragging my teen to see #nickelodeon @nickelodeon Can you say: "payback"??
Embark on an expedition unlike no other with Dora the Explorer herself! #DoraandtheLostCityofGold premieres on Friday and you won't want to miss out on her greatest adventure yet! Visit us online through our #linkinbio to buy your tickets! . . . . #AllInOneFamilyFun #SchulmansMBG #CorsicanaTX
In anticipation of the new movie Dora and The Lost City check out the blog for the 5 best places to explore in Dallas! . . . Be an In_DFW Explorer in Dallas Today! #ad