Photo Gallery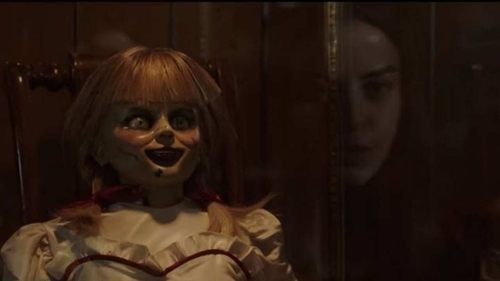 #verafarmiga #patrickwilson #patrickandvera #parmiga #annabelle #AnnabelleComesHome #horror #judywarren #edwarren #lorrainewarren #edandlorraine #love #couple @verafarmiga
#Repost @annabellemovie • • • • • • In three days, #AnnabelleComesHome and she's bringing friends. #annabellemovie
Selfie with me and my Annabelle doll from my fan made movie Annabelle demonic presentation Movie account which comes soon @annabelle_demonic_presetation #annabelle #annabelle2 #annabelle3 #annabellecreation #theconjuring #theconjuring2 #theconjuring3 #thenunmovie #thenun #valak #lorrainewarren #theconjuringuniverse #edwarren
The new poster for Annabelle Comes Home is the stuff of nightmares 😨 Remember we've got two Annabelle Comes Home giveaways now running on our Facebook page. Head over there to enter now 👍 #annabelle #annabelle3 #warnerbros #warnerbrospictures #giveaway #competition #theconjuring #conjuring #horrornerd #instahorror #ilovehorror #horrorlover #hookedonhorror #horrorgeek #horrors #horrorgram #horrorfreak #horror #horrorfan #horrorfilm #horrorfilms #horrorfanatic #horrormovies #horrormovie #horrormoviefan #horrorforlife #horrorlife #horrorcommunity
A new @annabellemovie poster has aired online not too long ago. #AnnabelleComesHome #TheConjuringUniverse #TheConjuring3
Thanks to @alliedphoenix for inviting me to #Warrensartifactroom a really cool interactive walkthrough for #conjuring fans. This is for the brand new #AnnabelleComesHome movie that comes out this Tuesday! Video on this tomorrow. Review Monday! I had a spooky time. It's in Arizona till tomorrow at 11pm and coming to Texas the next couple of days 🔥😈
"Danger doesn't lurk at every corner. It's just hanging out, waiting for fear and horror to show up."- unknown . . . #haunted #object #occult #edandlorrainewarren #annabelle #artifacts #evil #possessed #ghost #spirits #danger #keepout #cellphonephotography #amateurphotography #amateurphotographer #phoenixphotographer #downtownphoenix #arizona #antique #old
amazing poster for Annabelle Comes Home 🖤💀😈 #theconjuring3 #theconjuring #annabelle #theconjuringuniverse #annabellecreation
Time to 😴 Annabelle #annabelle #annabelle2 #annabelle3 #annabellecreation #theconjuring #theconjuring2 #theconjuring3 #thenunmovie #thenun #valak #lorrainewarren #theconjuringuniverse #edwarren
Annabelle Doll😊 ~ | #annabelle | #horrormovie
I attended a prescreening of tonight and I really enjoyed it! This one is well made and has a great spooky atmosphere, and often reminded me of a haunted house, in a great way. I liked that the main action took place in a single location, and the set design and music is all very well put together. And it actually gave me a few chills a number of times. It does often rely on jump scares as these Conjuring universe movies do, but it moves a constant pace keeping things creepy for the duration of the film once they start. Really fun movie, not something that is reinventing horror, but very well done all around and the audience seemed to have a great time. #theconjuring #horror #annabelle #horrormovie #prescreening
Annabelle is out! #annabellecomeshome
Just hanging out with my girl today! She's an absolute doll!! 😉❤️ Got to show her around Atlanta and even enjoy a little spa time. Can't wait for your movie premiere on Wednesday #Annabelle! You're going to knock them dead!! 😄 @annabellemovie #atlantaga #bffgoals👭 #geekgirls #annabelledoll
My hot date .
Had an amazingly scary time with this little lady! ✨💀 #xillamovieparty #annabelle #doll #scarymovie #horrormovies #💀
comes out TOMORROW night! Who will we see at an early screening?
Dating can be scary… but nothing is scarier than a night with @annabellemovie #ad Check out #AnnabelleComesHome, in theaters starting tomorrow!
Annabelle comes home #annabelle @annabellemovie
@thepanelatl attended the movie screening of thank you for having us @blogxilla #xillamovieparty
Private VIP Movie Screening of Annabelle Comes Home 🎥 😳
#AnnabelleComesHome time! 👻😱
*Spoiler Alert* Annabelle has a Twin Sister Diannabelle . They look so cute together..❤💀🖕 . . #theconjuring2 #theconjuring #horror #annabelle #horrormovies #jameswan #valak #thenun #horrormovie #verafarmiga #annabellecreation #patrickwilson #horrorfan #halloween #theconjuringmovie #theconjuringuniverse #horroraddict #movie #scary #theconjuring3 #theconjuring2evocação #horrorfilm #conjuring #edwarren #theconjuringseries #horrorlover #theconjuring2movie #instahorror
🎥👻 #annabelle #dineintheater #amc
Went to see Annabelle today with the fam. So happy to spend time with my little bro ♥️ • #amctheaters #5dollartuesday #family #annabelle
It's time for a double feature tonight! Who's ready to see Annabelle Comes Home this week! @thescarycloset It's time! #trickortreatstudios #michaelmyers #michaelmyersmask #michaelmyerscosplayer #halloween1978 #halloween2018 #horrormovies #horrorfanatic #horrorfan #horroraddict #ilovehorror #horrorjunkie #horrorcommunity #horrorobsessed #horrorcollector #horrorgram #horrorprops #childsplay #chucky #goodguydoll #theconjuring #theconjuring2 #annabelle #annabellecreation #instahorror #horrorfamily
🎵Guess whose back! 🎶🎶Back again! #AnnabelleComesHome #Annabelle #Annabelle3 #TheConjuring #LaLlorona
I love the Conjuring Universe #films
... another day, another possessed doll film 🎞🎞📽📽 #NowPlaying #AnnabelleComesHome #TheConjuring #TheConjuringUniverse #Annabelle 📽📽🎞🎞
Me, Mom, and Aunt Margaret just seen Annabelle: Comes Home! She ever so creepy! sometimes you have to be careful what you touch! #annabelle #horror #movie #doll #theconjuringuniverse #curseobjects #cursedoll #ghosts #edandlorrainewarren #warrensoccultmuseum #occult #museum #demonology #witchcraft
She's coming home😈 #annabellecomeshome#movietonight#horror#horrorgram#imugly#horrorislife#theconjuring#annabelle#creepy#demons#spirits#dolls#possessed#demon#scarydolls#
Annabelle Comes Home: Trailers and Videos
WARREN FAMILY ARTIFACT ROOM TOUR - 'Annabelle Comes Home' Promotion - The Horror Show
Annabelle: Comes Home - Behind The Scenes
Annabelle Comes Home – Love Conquers
Annabelle Comes Home - Growing Up Warren
ANNABELLE COMES HOME (2019) | Behind the Scenes of the Conjuring Universe Movie
Annabelle Comes Home - TV Spot 'Nowhere Is Safe' (HD)
Everything You Need to Know About Annabelle Comes Home | Sponsored
'Annabelle Comes Home' Cast Share an Exclusive Clip | 2019 MTV Movie \u0026 TV Awards
ANNABELLE COMES HOME Trailer 2 (2019)
Annabelle Comes Home - Beacon for Other Spirits - Official Warner Bros. UK