Once Upon A Deadpool Posters
Photo Gallery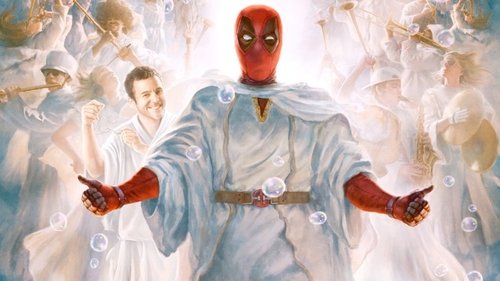 Merry Christmas featuring deadpool ?❤️ hope you guys like it ?? #deadpool #pg13deadpool #christmas #merrychristmas #storytime #marvel #marvelcomics #art #artistsoninstagram #artist #artsy #artwork #pencildrawing #copicmarkers #copic #copicart #copicsketch #copicmarker #copicillustration #illustration #kelownaartist #kelownaart #censored #pg13 #onceuponadeadpool
When you and your friend come together over your (ALLEGEDLY) shitty taste in music ? #Deadpool #FredSavage #Nickelback #OnceUponaDeadpool
Shake and bake. ⠀⠀⠀⠀⠀ #santacon #santacon2018 #??L #deadpool #deadpool2 #onceuponadeadpool
The only F word in this one is Fred Savage. See #OnceUponADeadpool, in theaters December 12.
Once upon a deadpool. Really nice what they did and still funny. Very last end credit scene was just beautiful. @lightcinema_stockport #thelightcinema #deadpool #onceuponadeadpool
MERRY CHRISTMAS ya filthy animals! Sooo, I conjured up an idea in my think box, when it's not being occupied by tacos. I'm gonna make Christmas cards! This is where YOU come in. Go to my STORY and vote on which picture you like better. Once a picture is decided on, I'll have cards made. If you would like to receive one or anyone you know, pm me your address if you're interested. Suit by: @kimoricos Mask by: @toddcookdesigns ? by: @ohicycosplay #deadpool #deadpoolmovie #ryanreynolds #robliefeld #deadpoolcosplay #deadpoolcosplayer #azcosplay #azcosplayer #cosplay #cosplayer #cosplaying #nerd #nerdy #nerdlife #chimichanga #mercwithamouth #christmas #santa #santaclaus #presents #gifts #toddcookdesigns
"There. Fixed it." ~ #Dragpool . It's right around the corner, people: Once Upon a Deadpool in theaters 12/12. I can feel the twinkle lights inside me just bursting! #deadpool #marvel #fredsavage #robliefeld #cosplayish #twinkling
All caught up? Good. #OnceUponADeadpool, in theaters December 12th.
Savage FAQs #OnceUponADeadpool
Once Upon A Deadpool!! ❤️❤️❤️ #ccxp2018 #ccxp #deadpool #FoxNaCCXP #marvel #marvete #deadpoolgirl #melhordomundo
Once Upon A Deadpool: Trailers and Videos
ONCE UPON A DEADPOOL 'Deadpool defends Nickelback' Trailer (NEW 2018) Superhero Movie HD
ONCE UPON A DEADPOOL Firefist Russell Collins Trailer (NEW 2018) PG-13 Deadpool 2 Movie HD
Once Upon A Deadpool Trailer in LEGO
ONCE UPON A DEADPOOL | Official TRAILER REACTION!!!
Fred Savage unveils 'Once Upon a Deadpool'
Once Upon A Deadpool Trailer - Avengers Marvel Easter Eggs and Jokes
Once Upon A Deadpool Trailer 2 - Deadpool Makes Fun of Avengers and Disney
Once Upon a Deadpool Trailer REACTION