Photo Gallery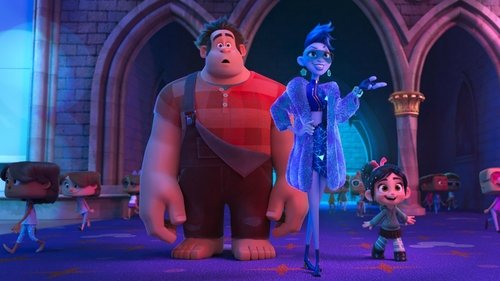 when you fall in love with a character from a movie that's not even out yet #shank
mood . . . . . #imagine #dragons #imaginedragons #nightvision #smokemirror #evolve #origins #danreynolds #waynesermon #danielplatzman #benmckee #believer #thunder #radioactive #gold #natural #zero #f4f #disney #youtube #instagram #digital #turnupvolume
GORD! #RalphBreaksTheInternet coming to Trinidad and Tobago cinemas November 28
In the Disney Store today, I got some Mickey's 90th Birthday merch and some Ralph Breaks the Internet merch too. And because I completed the AR treasure hunt, I got some ears! Even though I'll be working tomorrow, I am super excited for Mickey's big 90! #Disney #DisneyStore #DisneyStoreUK #shopDisney #shopDisneyUK #MickeyMouse #Mickey90 #SteamboatWillie #Fantasia #SorcerersApprenticeMickey #Mickey90Metalfig #NanoMetalfigs #NanoScene #RalphBreaksTheInternet #WreckItRalph2 #WreckItRalph #WIR #WIR2 #RBTI #RBTICinderella #Cinderella #OhMyDisney #RBTIOhMyDisneyCastle #RBTIPrincesses #DisneyPrincess #RBTIOhMyDisney
Huevember Day 18: Hair Can't wait to see her in @wreckitralph 2. #huevember#huevember2018#tangled#hair#disneyfanart#ralphbreakstheinternet#hairstyles#disneyprincess#rapunzel#haircolor#fanart#disney#wizards#stars#star#huevemberday18#pendrawing#hue#artmemes#characterdesigner#girl#artmeme#artmemes#blue#november#drawing#draweveryday#draw#art#artist#artsy
It's official: Reviews are breaking for the "Perfectly Fresh" #RalphBreaksTheInternet. See it in theatres next Wednesday!
— "So, now that you guys are talking— I'm free to go? ?" that line should belongs to Vanellope haha??? ok I don't know what I did with this post, don't know the meaning of it, but I just thought I needed to make something for the legendary died who just left us at the age of 95. I'm not a huge fan of Marvel, I know so little about Stan Lee, but judging on how many people make posts about him, how many people put tons of flower bouquets on his Hollywood Walk of Fame, how many people get it pretty hard at his pass, I know the love from the world for this man is real. I've always seen Stan Lee as an incredible with super ordinary mind, he makes his comics and stories much more relatable to us and there are always these few characters that I can relate to. Stan Lee is a pure genius. Now that he has been working for decades, let's give him a rest, a real one this time. Love you, big guy! Excelsior! ❤️ ••• Today's topic: Bye-bye ? I kinda need to remind you that death can knock on your door anywhere and anytime and what's the point of life with you knowing that you have nothing that you can give to the world? Your age, gender, nationality, your identity, your background is not a border for you to overcome great things. You guys are made from tons of potentials, you just gotta take one, use one, and train one to change the world. I believe that every single one of you is going to be something someday and you'll look back and be proud of how your old-self starts it all. "Every day, there's a new development. There's no limit to the things that are happening." ••• This post is dedicated to: @therealstanlee ?? Sir, you are amazing. Thank you for your so many lessons!!!?❤️????????❤️???????????????????
Hello! This is my first Ralph breaks the internet edit haha and my first edit in that style ? I Heard that song yesterday when the RBTI OST came out and I really like it haha sorry for the bad quality #disney #wreckitralph
Welcome Anna and Elsa ??❄️ I seriously can't get enough of these mini dolls! They are so fun & new & fresh ! Or maybe it's just my Wreck it Ralph excitement growing because it opens in less then a week! I decided to create Anna and Elsa digitally, so are they perfect ? No. But it nice to see it complete? . #Disney #wreckitralph2 #ariel #littlemermaid #cinderella #tangled #beautyandthebeast #frozen #sleepingbeauty #disneyprincess #doll #barbie #princess #disneydolls #disneydoll #disneyart #dollstagram #movies #animation #instamood #instalove #love #disneystore #limitededition #disneymagic #disneycollector
@totalfilm nos da imágenes exclusivas de #GlassMovie? ⏬ #Glass #Avengers4 #Avengers #avengersinfinitywar #infinitywar #FantasticBeasts #HarryPotter #marvel #vengadores4 #JusticeLeague #GameOfThrones #funkopop #FelizSábado #daredevil #stanlee #AnimalesFantásticos #TheWalkingDead #Riverdale #RalphBreaksTheInternet
#V103 hosts sneak peek.
The Disney Princesses agree that Vanellope von Schweetz is a princess, but Vanellope just wants to race instead of hanging out at the Royal Hall ???? . . . #wreckitralph #vanellope #disneycaliforniaadventure #dca #disneyland #dlr #disneyparks #disneygram #instadisney #disneyig #disneycharacter
@wreckitralph is a Sheer Delight for All Ages wp.me/p2v8yf-3tt #disney #ralphbreakstheinternet⁠ ⁠
Monday Night Movie ? Premier #amctheaters #hits973 #disney #atthemovies @amctheatres @hits973
#feelinglucky #wreckitralph2 #moviescreening #movie #2019
Had to get a photo with a guy dressed as Wreck it Ralph #ralphbreakstheinternet, #wreckitralph2, #premiere, #cosplay, #computeranimated, #waltdisneypictures
She's a princess, too! ?? This Wednesday, embark on a wild ride with Vanellope and some familiar faces in #RalphBreaksTheInternet.
There is an Article over at @disneystyle about the Princesses in their Comfy looks ? Make sure u go and read it, super fun! __ Here are some highlights: What sparked the idea that Vanellope would pass on her "comfy style" to the Disney Princesses? Kira: The idea originated with Pamela Ribon, who wrote this whole sequence. She thought, and we do, too, that every good movie has a makeover. So for Vanellope, we thought, "If Vanellope was to come into this group of Princesses, the Princesses would be curious about her. They'd ask things like, 'What kind of Princess are you, cause I've never seen anything like your outfit before?'" and they'd be enamored by her. But then we thought, "Well what if Vanellope had an influence on them?" and the transformation happens. How did you draw inspiration from the Princesses' style and stories to create their new comfy looks? Ami: We got a lot of inspiration from the Princesses who we know as powerful and unique characters. And each shirt or pattern has a reference to their unique stories. How many iterations of each look did you go through? Kira: Those were the best meetings! They were really my favorite. Ami had done so many different beautiful designs and we just went through puns and lyrics and would take an idea and say, "Well let's draw that!" Ami: Just to get to his point, we did almost 30 other designs for each Princess. And a lot of other people and designers contributed to that. Did you have a good idea right away of the different styles they'd be wearing? Ami: At first we were designing them in pajamas, but we decided it was a little too relaxed. So we thought about having them in clothes that can be worn inside or outside. Kira: Yeah, and there are some hints to the original movies, like Ariel not wearing shoes. Ami: Yeah, I like to think of their thoughts on their outfits, like she's not wearing shoes because she's still so mesmerized by her feet! Kira: Or like, I love how ironic it is that Elsa has a sweater, but the cold never bothers her anyway.
Just look at her!!! Someone send an ambulance!!! ??????
My cute movie date and I are ready to wreck it! #wreckitralph #disneysmmc #disney #advancescreening #movie
Ralph Breaks the Internet: Trailers and Videos
Ralph Breaks the Internet | 'KnowsMore' Clip
Ralph Breaks the Internet Exclusive Featurette - Into the Internet (2018) | Movieclips Coming Soon
Disney Princess Dolls from Ralph 2 Breaks the Internet Toys
RALPH BREAKS THE INTERNET (2018) | Behind the Scenes of Disney Animation Movie
Ralph Breaks the Internet | 'Zero' Special Look
2 NEW Wreck-It Ralph 2 CLIPS - Ralph Breaks The Internet
WRECK IT RALPH VS MINECRAFT CHALLENGE! Ft. Sonic (Official) Ralph Breaks The Internet Animation
RALPH BREAKS THE INTERNET Holiday Advent Calendar with 24 Surprise Toys \u0026 Presents
2018 Ralph Breaks the Internet Movie McDonald's Happy Meal Toys Full Set
Ralph Breaks the Internet | 'Hearts' Clip
Ralph Breaks the Internet | 'We Are In The Internet' Clip
Wreck It Ralph Breaks the Internet In Real Life! Dress Up Play + Toy Surprise
RALPH BREAKS THE INTERNET MOD - PART 2 (GTA 5 PC Mods Gameplay)
RALPH BREAKS THE INTERNET LOL Surprise Customs Help Rescue Vanellope \u0026 Taffyta
WRECK IT RALPH 2 Vanellope Meets Ariel Scene Trailer (NEW 2018) Ralph Breaks The Internet Movie HD
Ralph Breaks the Internet: Wreck-It Ralph 2 - Review
RALPH BREAKS THE INTERNET (2018) | Behind the Scenes of Disney Animation Movie
Sarah Silverman on 'Ralph Breaks the Internet'