Photo Gallery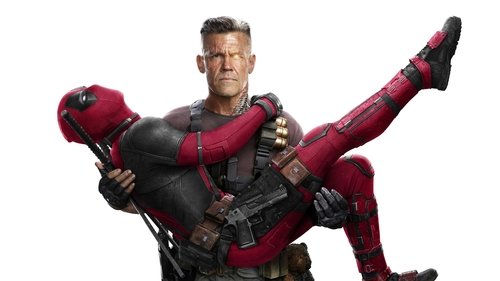 Deadpool 2: The Super-Duper Cut is without a doubt an improvement over an already great movie and fleshes it out with more character moments, alternate takes, crasser jokes, and incredible scenes of extended Deadpool mayhem! There are certain changes to the soundtrack that I really dug and fit more in the movie than in the original cut. I feel as if the villain character is more fleshed out in here and we can sympathize with the tortured Russel even more now. The main story is basically the same with a few meatier moments to help give context to some of its darker elements. The fifteen minutes of extra footage are well spread throughout the 2 hour and 15 minute runtime extending certain scenes that we might've wanted more of in the theatrical release. Even Cable is given more humanity and depth in this version. Oh, and yes the after credits scenes are still amazing and there may be a few HILARIOUS adjustments to it that fans with fall to the floor laughing over. Overall, Deadpool 2: The Super-Duper Cut is everything I could ever want in a Deadpool movie and transcends both the original film and the theatrical release of the sequel. Deadpool fans, time to make the chimichangas and watch this awesomeness of an extended cut! ??L #deadpool #cable #domino
Just finished watching Deadpool 2 Super Duper Cut. Not a bad movie at all but I still liked the first one better ???? #bluray #bluraycollector #blurays #blurayaddict #bluraymovies #blurayfanatic #blurayfreak #deadpool #deadpool2 #deadpoolfan #deadpool2018 #deadpoolmovie #deadpool2movie #deadpoolforever #deadpool2superduperuncut
The #Deadpool2 #HallH panel was a #laughoutloud fest throughout. I highly enjoyed it. They were promoting the extended/uncut #Deadpool2SuperDuperCut of the #movie. They had some funny bits just to start off, such as #KaranSoni's sextape accidentally playing off ?, with him being moderator of the panel. #RyanReynolds, #ZazieBeetz (aka #Domino), #BriannaHildebrand (aka #NegasonicTeenahgeWarhead), #StefanKapicic (aka #Colossus), & directors #PaulWernick & #RhettRheese were in attendance. The new footage they shown were #hilarious (esp a extended ending that was so edgy yet funny), and almost everything anyone in the panel (esp #Reynolds) said was pretty funny. The Q&A portion was Reynolds' show as most of the questions went to him, and most of the answers were jokes sprinkled with a lil heart. Reynolds stole the show as he was charming, witty, and appropriately #raunchy (basically Ryan Reynolds); everyone seems to have loved it as every answer drew some type of positive reaction. Very fun panel, hope they get to come back next time with another entry in the franchise. __ #ComicCon2018 #ComicCon #sdcc2018 #sdcc #TheMercWithAMouth #MaximumEffort #Chimichangas #Dopeness #DopeAF #XForce #XMenUniverse #DP2 ?‍♂️?‍♀️
It's going down before bed! #deadpool2 #itunes
Teaser video to the unboxing. Full video will be linked in bio later and releases at 12am cst Suit by @el_fett and @professionalcosplay. Title card by @rhidilen_art. Future equipment upgrades by @raptorprops. Go check out rosesandbulletshells on tumbler. Deadpool collector corps by @funko #deadpoolcollectorcorpsunboxing #amazon #funko #spidermanhomecoming #spidermanfarfromhome #offspringmakegreatstagehands #proudpapa #bloopers #unicorns #taikairyu #taikairyuproduction
Just got out of the panel with @vancityreynolds @zaziebeetz and more #Sdcc2018
"Listen to the pain. It's both history teacher and fortune teller. Pain teaches us who we are, Wade. Sometimes it's so bad we feel like we're dying, but we can't really live until we die a little, can we?" #chasegreatness #onyourleft #runfatboyrun #runordietrying #runnersporn #deadpool2 #blindal #sofunnyimcrying #needagoodlaugh #havefuneveryday #bepositiveandloveyourlife
???Deadpool 2 Super Duper Cut is on Digital TODAY??? - #Repost @vancityreynolds with @get_repost ・・・ Do you smell that? #Deadpool2 Super Duper Cut is on Digital Today. #deadpool#deadpool2#superdupercut #deadpool2superdupercut#ryanreynolds #wadewilson#chimichanga#hotspicy#xforce#xmen#mutant#cable#domino#joshbrolin#zaziebeetz #bluray#dvd#homevideo#fox#disney#digital #vanisher#hallh#bradpitt#wolverine#hughjackman #MAXIMUMEFFORT
The Super Duper Cut of Deadpool 2 has been watched and it is awesome. So glad the studio released it. It has BONUS 15 MINUTES which - IMO makes the film even better. The pacing in the first half feels improved and the action -more balanced. I LOVED IT! ❤️ Also, It's sad @vancityreynolds couldn't kill Baby Hitler ?? Did @joshbrolin do it? ? #deadpool2 #superduper #firstreaction #reactionvideo #lovered #moviegeek #moviereview #crunchreview #homevideo #august8 #nerd #deadpool #videoreview #videogram #movies #comicbookmovies #superheroes #bestof2018
Me in a teddy(bear-filled room) ... . . . . ? by @unbreakablejayde ... #deadpool2 #believeinyourselfie #teddybears #sadface #teddy #wadewilson #deadpool #xforce #cable #teddybearsummers #onset #popup #toys #surreal #popupmuseum #pout #poutyface #deadpool2superdupercut
?❤ Epic! ?? #Deadpool #DeadpoolMovie #Deadpool2 #Deadpool2SuperDuperCut #SuperDuperCut #RyanReynolds #WadeWilson #XMen #XMenMansion #Cameo #Epic
?Altered Deadpool 2 Post-Credits Scene Hints At Wolverine's Return? - Fox Home Entertainment has an even larger presence to promote the August home video release of Deadpool 2. And that meant the cast, writers, and director David Leitch returning to the infamous Hall H in a time slot usually reserved for Marvel Studios annually. The sequence where Deadpool goes back to X-Men Origins: Wolverine's third act and kills Wade Wilson in front of Hugh Jackman's Wolverine is extended. After saying he's "cleaning up the timeline" and not to shoot, he shoots Wade Wilson a few more times and says "love you" to Hugh Jackman's adamantium-upgraded mutant in the theatrical version. But in the new version, he says more, and tells Logan that if he comes calling in the future to join him (referring to X-Force no doubt), to say "yes" and then he shoots Wade and walks off. "One day your old pal Wade's gonna ask you to get back in the saddle again. When he does, say yes."This is the biggest hint yet that it's possible despite the many official denials by Hugh Jackman himself that we could see Jackman return as Logan / Wolverine in another X-Men movie. And what better way to do that than in an R-rated X-Force movie with Cable. It's something fans and Ryan Reynolds have always wanted and something even Hugh Jackman said would be amazing. That being said, during the panel fan Q&A portion someone did ask if they can get Logan back to which director David Leitch said he can't speak to and to which Reynolds said is not happening, before saying "maybe" and that anything's possible. #deadpool#deadpool2#sdcc2018#comiccon2018 #superdupercut #ryanreynolds#wadewilson#chimichanga#hotspicy #xforce#xmen#mutant#cable#domino#joshbrolin #zaziebeetz#bluray#dvd#homevideo#fox#disney #sandiegocomiccon2018#vanisher#hallh#bradpitt #wolverine#hughjackman
Nueva promo de #Deadpool2SuperDuperCut. . Ya disponible en formato digital. . . . . . #Deadpool2 #Deadpool #Marvel #Disney #RyanReynolds #Comics
Can't wait to finally watch the #Deadpool2SuperDuperCut! #Deadpool #DP2 #TheNerdTruth #Repost @vancityreynolds • • • • • They get so big so fast. Deadpool 2 Super Duper Cut on Digital Now. On Blu-ray Tomorrow! #Deadpool2
Huge thanks to @deadpoolmovie and @foxhomeent for sending over a copy of one of my favorite films of the year so far! I can't wait to check out the 15 additional minutes and all the wild extras. Deadpool 2 Super Duper [email protected]%!#& Cut hits shelves tomorrow! . . . . #deadpool #deadpool2 #fox #comicbook #geek #fan #bluray
Ryan Reynolds confirms 'Deadpool 2: The Super Duper Cut' to be released on August 7 in Digital HD and then on Blu-Ray on August 21. And promises more ridiculous action. Literally Deadpool 2 got an extended cut but Zack Snyder didn't. ?? Rate Juggernaut out of 10. Comment your views on Juggernaut below and tag your friends. #marvel #xmen #deadpool2 #deadpool #wadewilson #ryanreynolds #cable #nathansummers #joshbrolin #vanessa #morenabaccarin #negasonicteenagewarhead #briannahidebrand #domino #zaziebeetz #stefankapicic #jackkesy #blindal #leslieuggams #tjmiller #marveldcthings
#industriastudio10 ???
#MercsMonday ? HYPE cuz #DP2 comes out on Blu-ray tonight! Gonna get @walmart exclusive! #FortWayneDeadpool ???????? #deadpool #cosplay #marvel #ryanreynolds #wadewilson #cable #domino #deadpoolcosplay #walmart @the_mercs_for_hire_sc
Deadpool 2 Super-Duper Cut on UHD 4K Blu-ray on my Sony X900E 4K HDTV. Time to enjoy this fine, fine masterpiece again! Only this time, from the comfort of my couch! • • #deadpool #deadpool2 #4k #uhd #bluray #wadewilson #cinema #theater #hometheater #homecinema #hdr #steelbook #bestbuyexclusive #bestbuyexclusivesteelbook
Extended Wolverine cameo scene in Deadpool 2. #deadpool2 #deadpool #wolverine #jamesloganhowlett #wadewilson #20thcenturyfox #marvel #HughJackman #RyanReynolds #cameo #scene #XMen #XMenOrigins #XForce
#superdupercute #superdupercut #deadpool MUCHAS MAS ESCENAS..EN BLU-RAY....Y GORE FUERTE EN #deadpool2 #genial #gore @deadpoolmovie @peruvianfanboy @geeksisters_ look this¡¡ XD ??? #marvel @comicconlima #comicconlima2019
We're X-force #xforce #deadpool #peterdeadpool2 #domino #bedlum #xmen #vanisher #juggernaut #wadewilson #deadpool2
Got my copy of Deadpool 2 Super Duper cut! #SpiderManhomecoming #thorragnarok #logan #comicbooks #comics #Justiceleague  #thebatman #thedefenders #netflix #avengersinfinitywar #guardiansofthegalaxy2 #comicsarebetterthanmovies  #thehulk #spiderman #daredevil #batman #superman #aquaman #deadpool #deadpool2 #captainamerica #hydra #injustice2 #reading #learning #venom #theflashcw #marvelvsdc #deadpool2superdupercut
Join in celebrating the Blu-ray™ and digital release of one of the year's most over-the-top films with Deadpool 2 Super Duper Cut activations throughout Planet Hollywood Resort & Casino. #20thCenturyFoxHomeEntertainment #4KUltraHD #BluRay #BriannaHildebrand #Deadpool2 #Deadpool2SuperDuperCut #DigitalHD #DVD #EddieMarsan #Fox #HayleySales #JackKesy #JoshBrolin #JulianDennison #KaranSoni #LeslieUggams #LukeRoessler #MorenaBaccarin #Movie #movies #RyanReynolds #StefanKapicic #T.J.Miller #TanisDolman #ZazieBeetz #NothingButGeek #NBG #NBGeek http://nothingbutgeek.com/2018/08/deadpool-2-super-duper-cut-takes-over-planet-hollywood-las-vegas/
Deadpool 2: Super Duper Cut: Trailers and Videos
Ryan Reynolds Introduces the DEADPOOL 2 Super Duper Cut (SDCC 2018)
Deadpool 2 | 'Super Duper Cut with 15 Minutes of Unrated Goodies' TV Commercial | 20th Century FOX
Deadpool 2 | Creating Easter Eggs | 20th Century FOX
Is the Deadpool 2 Super Duper Cut Worth It?
Deadpool No. 2
DEADPOOL 2 'Super Duper Cut with 15 Minutes of New Material' Trailer [HD] Ryan Reynolds, Josh Brolin
Everything We Learned From the Deadpool 2 Super Duper Cut and Special Features
Deadpool 2 | Touring Now: Deadpool and the Super Duper Band | 20th Century FOX
How Deadpool 2's Extended Cut Teases a Wolverine Team-Up! (Nerdist News w/ Jessica Chobot)
Deadpool 2 | 'What's Your F-Word?' TV Commercial | 20th Century FOX
Deadpool 2 EXTENDED CUT All Deleted Scenes Explained! (Baby Hitler Scene)
Deadpool 2- Theatrical cut vs Super duper cut
DEADPOOL 2 'Super Duper Cut' Trailer (NEW, 2018) Ryan Reynolds, Superhero Movie HD
DEADPOOL 2: SUPER DUPER CUT | Comic Con 2018 Full Panel (Ryan Reynolds, Zazie Beetz)
Ashes (Acoustic) - Deadpool 2 (SuperDuper Cut)
What Got Cut From Deadpool 2?
Deadpool and S.H.I.E.L.D. Medic Team-up - Grenade Refraction!
Deadpool 2 Commentary (Super Duper Cut)
Deadpool 2 | Don't Skimp On The Powder | 20th Century FOX
Everything We Learned From the Deadpool 2 Super Duper Cut and Special Features