The Maid In London Posters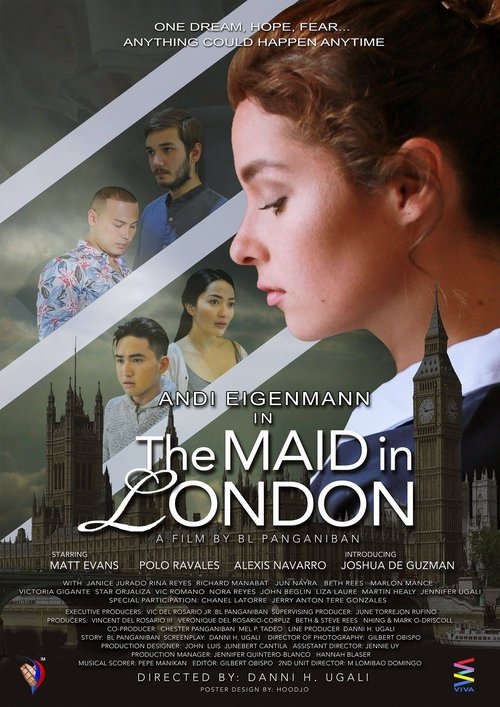 Photo Gallery
#workinganywhere #solarpower #macbookpro #offline
STRESSED spelled backward is DESSERTS Hi sayo!:)?? #TheMaidinLondon #EmbrowPlus #Pregojeans #EstiaraPerfume #BeauteDerm #FrontRow
I'm blown away by the overwhelming support of my manang @momirei and my @beautedermcorporation family. Truly one of the best families I've ever had. Starring Ms. Andi Eigenmann, Polo Ravales, Matt Evans. In Cinemas Nationwide on July 14. A film by BL Panganiban. Directed by Danni Ugali. #faithaboveall?
BTS #soon ?????? #TheMaidInLondon
#TheMaidInLondon presscon with my mermaid @andieigengirl ??‍♀️
Presscon #TheMaidInLondon #AndiEigenmann #CTO
The Maid in London is a drama. It is inspired by true events. The story of two best friends, Margo (#AndiEigenmann) and Faye (#AlexisNavarro) working illegally in the United Kingdom, struggling to obtain permanent residency visa hence every day they fear of getting caught by immigration police. The story has many twists and turns which make it more interesting to watch and inspirations to all overseas workers around the world and an eye-opener to their families back home showing the sacrifices they make just to provide them with the quality of life for their loved ones no matter how hard life is being illegal overseas workers. Now, what makes it similar? They are both gorgeous, excellent in their performance as the maids' roles. #TheMaidinLondon is showing on June 13,2018. Please watch. Thank you.... @vivaartistsagency tistsagency #vivaartist
@andieigengirl at the premiere of #TheMaidInLondon ❤️ thank you @mikkamarcaida , @geraldmgtby , @joannagee and @randellgiel ! #AndiEigenmann
#TheMaidInLondon Red Carpet Premiere with Andi Eigenmann, Direk Danni Ugali, and the cast! The Maid In London opens in cinemas July 4!
Thank you @itskylinealcantara of Kambal Karibal for promoting our film THE MAID IN LONDON Thanks to @shyrvaldez for the VG. #TMIL #KylineAlcantara #kambalkaribal
The Maid In London: Trailers and Videos
Andi Eigenmann celebrates her birthday in Baler
Andi Eigenmann reveals her frustrations [The Maid In London Press Conference Part 3]
Miss Andi Eigenmann invites everyone to watch 'The Maid In London' in cinemas nationwide
How can OFWs relate to the movie? [THE MAID IN LONDON FULL PRESS CONFERENCE]
Andi Eigenmann For Her Film The Maid in London
Andi Eigenmann talks about her new life in Baler and Jake Ejercito
THE MAID IN LONDON (2018) Official Trailer | Andi Eigenmann, Matt Evans
MAID IN LONDON 2 HD 2018
Top Andi eigenmann, balik-showbiz sa pelikulang 'the maid in london'
Made in London: Ella Bull