Photo Gallery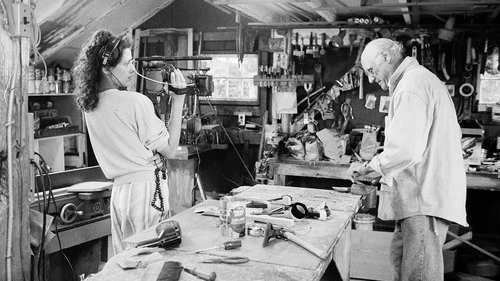 The intimate and profound journey of a writer told through the heart full craftsmanship of a daughter! Coming in March on #hbodocumentaryfilms #arthurmiller #idascreeningseries
With #MarianneElliott & #cindytolan, 2 of the most amazing, talented, wonderful women on the planet. Director of masterpiece @angelsbway and Cindy, producer of stunning, moving film #ArthurMillerWriter.
"Arthur Miller: Writer" screening @themuseumofmodernart last night. "I have to say, I've introduced a lot of documentaries in my day but this one has a special kind of relevance. It is the great Arthur Miller." @hbo @hbodocs #womeninfilm #arthurmiller #arthurmillerwriter
Super excited that ARTHUR MILLER: WRITER will have its world premiere at the Telluride Film Festival!!! Produced this film over the course of 6 years, including when I was holding down a day job planning events at SPiN! The hard work paid off. Super excited!!! #telluridefilmfestival #arthurmillerwriter
Now watching 'Arthur Miller: Writer'. Rebecca Miller shows the human side of her father with home footage and intimate interviews. It's refreshing to see a softer side to one of the greatest playwrights of all time. Now on HBO. Watch it.
Playwright John Guare interviews Filmmaker Rebecca Miller about the documentary she just completed about her late father, the playwright Arthur Miller. On @hbo this month. #arthurmiller #arthurmillerwriter
Tune in tonight at 8:00P for ARTHUR MILLER: WRITER on HBO! Extremely proud to have produced this film alongside Cindy Tolan and associate producer Jaime Hastings. Edited by the amazing David Bartner. Directed by his uber talented daughter, director Rebecca Miller. (Boo to instagram for cutting off the last 9 seconds but you can watch the entire film TONIGHT!) #arthurmiller #tonykushner #mikenichols #marilynmonroe #ingemorath #hbo @jkhnyc
#RebeccaMiller's film is a portrait of her father #ArthurMiller, one of America's sharpest writers and social commentators, built around impromptu interviews shot over many years in the family home. #HBO Documentary #ArthurMillerWriter premieres March 20 on #HBONordic.
Round of applause for the New York Film Festival premiere of ARTHUR MILLER: WRITER. ?????? #nyff
Another great NYFF comes to an end; I finished with screenings of the director's cut of ISMAEL'S GHOSTS and the doc ARTHUR MILLER: WRITER. • • • #nyff55 #nyff #fslc #filmliveshere #filmliveseverywhere #ismaelsghosts #arnauddesplechin #mathieuamalric #arthurmiller #rebeccamiller #frenchcinema #directorscut #documentary #nycfilmculture
| "When it is recalled that until the Christian era the underworld was never regarded as a hostile area, that all gods were useful and essentially friendly to man despite occasional lapses; when we see the steady and methodical inculcation into humanity of the idea of man's worthlessness – until redeemed – the necessity of the Devil may become evident as a weapon, a weapon designed and used time and time again in every age to whip men into a surrender to a particular church or church-state." - Arthur Miller, "The Crucible"
John Guare and Sheila Nevins, classmates at the Yale Drama School Class of '63, at the screening of "Arthur Miller: Writer" last night @yaleschoolofdrama @themuseumofmodernart @hbodocs @hbo #womeninfilm #arthurmiller #johnguare #documentaryfilm
After his wife Inge passed away. Check out the Arthur Miller documentary on HBO. Really good. . . . . . . . #hbo #documentary #arthurmiller #writer #tv #love #sorrow #downtoearth #interesting #greatwatch
Such a huge privilege to get an early peek at this brilliant doc. Thanks again @jkhnyc for the invite! @themuseumofmodernart #hbofilms #arthurmillerwriter
#RebeccaMiller #litfilm #bpl #tuesday
Rebecca Miller's film is a portrait of her father Arthur Miller, built around impromptu interviews shot over many years in the family home. Documentary #ArthurMillerWriter premieres Monday, March 19 at 8pm on @HBO #DanielDayLewis
All the cool kids will be at #docstories @sffilm @indiewire #thefinalyeardoc @ambassadorpower
by his amazing and talented daughter. It is a fearless portrait.
Rebecca Miller's film is a portrait of her father Arthur Miller, built around impromptu interviews shot over many years in the family home. Documentary #ArthurMillerWriter premieres Monday, March 19 at 8pm on @HBO #DanielDayLewis
Arthur Miller: Writer: Trailers and Videos
Susan Sarandon and Julianne Moore at premiere for Arthur Miller film
Why 'Arthur Miller: Writer' Took 25 Years To Make
Shaquille O'Neal: The Brand | Real Sports w/ Bryant Gumbel | HBO
Arthur Miller: Writer Trailer #1 (2018) | Movieclips Coming Soon
Rebecca Miller: Daughter And Filmmaker
Arthur Miller- Writer Official Trailer (2018) Full HD
Arthur Miller: Writer Official Trailer (2018) | HBO
Arthur Miller: Writer HD Documentary Trailer 2018
The Creation of Non-Existing Possibilities. | Saurabh Shukla | TEDxNMIMSBangalore
Arthur Miller: Writer Official Trailer (2018) | HBO
Arthur Miller, The Creative Process
Shaquille O'Neal: The Brand | Real Sports w/ Bryant Gumbel | HBO
Post-World War II \\r\\nTheatre\\r\\n brought in many more forms of \\r\\nt
Rebecca Miller on the Mother of All Subjects Her Father
Arthur Miller: Yazar - Arthur Miller: Writer 2017
Bringing Death Back to Life | Jenny Tay | TEDxNTU
An Inside Look w/ Director Thom Thom Zimny \u0026 More | Elvis Presley: The Searcher | HBO