Photo Gallery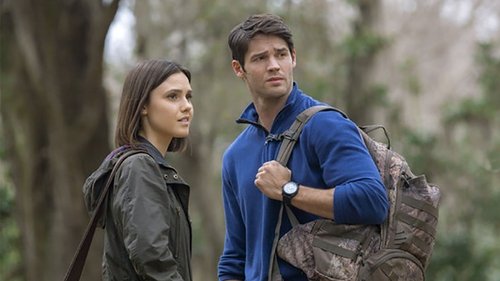 ADR session with the lovely & talented @poppy_drayton for our @hallmarkchannel film • Premieres March 31 • 9pm ET. 8pm CT. 6pm PT
A great day of ADR with @steven_r_mcqueen @thereal_marymargarethumes and @tiiuloigu for our @hallmarkchannel film #homebyspring
@kixbrooks is headed to the @hallmarkchannel We have all the details! Link in bio. #KixBrooks #HallmarkMovie #HomebySpring #DirtRoadAntems
#Repost @tiiuloigu ・・・ ADR with @steven_r_mcqueen today for @hallmarkchannel #march31
So excited to watch this movie❤️❤️❤️❤️
Awww I just saw this and it made me soooo happy and miss my old neighbor so much! Crazy how fast time flies. And Yes she was something Special? This Saturday 31st 9pm- @steven_r_mcqueen #timeflies#stevenrmcqueen #hesgettingmarried #truevampires #nosleep#homebyspring#oldneighbors#cantwaitforsaturday#imanerd
Listen for the @shockleyfieldsmusic song "Love In Springtime" featured in the @hallmarkchannel film • Premieres Saturday March 31 • 9pm ET 8pm CT 6pm PT • Youtube link to song in bio
ADR with @steven_r_mcqueen today for @hallmarkchannel #march31
We are so excited that our film will premiere on @hallmarkchannel March 31st. Starring #poppydrayton @steven_r_mcqueen @kixbrooks @thereal_marymargarethumes @williamshockley @scottbaileyofficial @michaelwelchact @christophermychaelwatson @katrinalnorman @therealverneewatson @mia.matthews
We're in full swing...or should we say Spring! Take a look at our all new #SpringFever original #HomebySpring premiering this SATURDAY at 9/8c!
#Repost @mia.matthews with @get_repost ・・・ A couple stills from video village during filming of #homebyspring. Airing March 31 on @hallmarkchannel. Can't wait to share more! #hallmark #movies
#Repost @hallmarkchannel ・・・ Did you know they filmed #HomebySpring in country star @kixbrooks's home state of Louisiana? Tell us what you love most about your hometown and don't miss the premiere this Saturday night at 9/8c!
My favorite @steven_r_mcqueen and some other people are going to be in a Hallmark movie this Saturday at 9pm est #stevenrmcqueen #teammcqueen
Set the DVR's y'all and be sure and tune in! My amazing sister @heatherjnyc and the equally amazing @ashleyashleyash and @lalalalexi worked on @hallmarkchannel Home By Spring and you don't want to miss it. It has an incredible cast, including two of my faves @thereal_marymargarethumes (Dawson's Mom!) and @kixbrooks (my mom would be freaking!) It's been a real labor of love for everyone involved in making it and I hope you'll check it out! #hallmarkchannel #twinning #springfever
#Repost @heatherjnyc ・・・ When you get to meet one of your favorite country stars @kixbrooks at TCA and then you make a movie! So excited for everyone to see #HomeBySpring this Saturday @hallmarkchannel #springfever @steven_r_mcqueen @thereal_marymargarethumes @tiiuloigu @scottbaileyofficial @michaelwelchact @katrinalnorman @christophermychaelwatson @rafaelleyvadp @williamshockley @gianna_montelaro
Listen for the @shockleyfieldsmusic songs "Home By Spring" and "Love In Springtime" in the @hallmarkchannel film #HomeBySpring Premieres this Saturday March 31 9pm ET 8pm CT 6pm PT
#Repost @michaelwelchact with @get_repost ・・・ Check out #HomeBySpring starring @steven_r_mcqueen 's forearms, March 31 at 9 EST on @hallmarkchannel !
A start of a new day...on the set of @homeandfamilytv which airs this morning with @steven_r_mcqueen to promote our @hallmarkchannel original film (a very sweet country love story...and yes, I play "mom") which premieres tomorrow evening...thank you to @iamdebbiem and @marksteines for all the laughter #behindthescenes #actorslife #dawsonscreek ?‍♂️ meets #thevampirediaries ?‍♂️ ? Have a beautiful morning ya'll
Answer: playing Paul in "Home By Spring" which premieres on Hallmark this Saturday. Grateful to work with such great people including @thereal_marymargarethumes #grateful #filmmaking #premiere
#Repost @scottbaileyofficial with @get_repost ・・・ I'm so proud and thrilled to be part of movie on @hallmarkchannel which is premiering tomorrow night! Everyone involved really put their hearts into making a great movie and I hope you all enjoy it! #grateful #filmmaking @williamshockley @rikertd @tiiuloigu @heatherjnyc @ashleyashleyash @lalalalexi @kixbrooks @poppy_drayton @steven_r_mcqueen @thereal_marymargarethumes @christophermychaelwatson @katrinalnorman @verneewatson.fanpage @stephanie_honore @jacinteb @mia.matthews @ericbrooks @dwightlittle8mm @rafaelleyvadp
Tune in to the @HallmarkChannel this Saturday 3/31 at 8pm Central to see the World Premier of this new movie Home By Spring featuring Steven McQueen and Poppy Drayton. #HomeBySpring #SpringFever #Hallmark #StevenRMcQueen #PoppyDrayton #tvd #jeremygilbert #thevampirediaries
#Repost @tiiuloigu with @get_repost ・・・ Special appearance by our Exec Producer's son @nickkuelbs in Premieres tonight on @hallmarkchannel at 9/8c We are beyond stoked!
@alexandra.k.silva making a little cameo #homebyspring
#Repost @hallmarkchannel ・・・ #SpringFever continues this Saturday night with #HomebySpring! Don't miss our Facebook live with stars @steven_r_mcqueen and thereal_marymargarethumes TOMORROW at 3:00pm EST! What would you like to ask them?
This weekend's TV Movies. (and a musical!) Lifetime has Party Mom, Hallmark will make sure your Home by Spring, and NBC has John Legend!!! . . . #hallmarkchannel #lifetime #lifetimemovies #spring #tvmovies #easter #weekend #movies #friyay #hallmarkmovies #actor #actress #jesuschristsuperstar #nbc #gaystagram #instagay #podcast #podcasting #weekend #movies #comingsoon #jesus #springfever #love #partymom #party #mom #momlife #musical #theatre #homebyspring
Not often do I get the honor to photograph a casting director. Yesterday was one of those days and I am loving the pix I took with @tiiuloigu, who was so awesome to work with! Check out her latest movie #HomeBySpring tomorrow evening on the @hallmarkchannel #castingdirector #tiiuloigu #photoshoot #photographer #bjoernkommerell #celebrityphotographer #hollywood
So hot, he needs to extinguish himself ? excited for Home By Spring tonight on @hallmarkchannel! #stevenrmcqueen #thevampirediaries #chicagofire #chicagopd #piranha3D #minutemen #hallmark #hallmarkies #hallmarkchannel #tvmovie #blackandwhite #hunk #hunksofhallmark
Check out #HomeBySpring TONIGHT on @hallmarkchannel at 9 Eastern! ?
Home by Spring: Trailers and Videos
Freshen Up Your Home for Spring
Home Bargains Haul | Spring 2018
Cast Interviews - Home by Spring: Kix on Filming in Louisiana - Hallmark Channel
How to| DIY Simple Elegant Dollar Tree Organization Spring Ideas💖|DIY Glam Decor 🌷2018
SPRING HOME DECOR HAUL | PIER ONE | HOME GOODS | DOLLAR TREE
17 CUTE DIY HOME SPRING DECOR IDEAS
WALMART *SPRING* SHOP WITH ME | NEW SPRING \u0026 SUMMER HOME DECOR
Meeting players and INSANE BP ACTION at Spring Training -- Hohokam Stadium
2018 Spring Training Home Runs | 3/26/18
2018 Spring Training Home Runs | 3/27/18
Cast Interviews - Home by Spring: Steven on the Outdoors - Hallmark Channel
Dollar Tree DIY ~ Wooden Carrot Easter Sign ~ Rustic Spring Home Decor
Ways to spruce up the outside of your home this Spring
FORTNITE GAMEPLAY : Spring It On! ~ You Dont Have to Go Home | Save The World
Cast Interviews - 'Home by Spring' Producer Eric Brooks - Hallmark Channel
Cast Interviews - Home by Spring: Poppy on Spring in London - Hallmark Channel
LET'S GET GARDENING! Home Gardening 101 with the Dancing Farmer
Shop WITH ME HOMEGOODS KITCHENWARE LEMON SPRING SUMMER KITCHEN HOME IDEAS 2018
Cast Interviews - Home by Spring: Poppy on Easter - Hallmark Channel
Behind the Scenes - Home by Spring - Hallmark Channel
SPRING \u0026 EASTER Home Decor Tour 2018! | Affordable Farmhouse Spring Decor | Maranda Christine
15 GREAT IDEAS TO DECORATE YOUR HOME FOR SPRING
Cast Interviews - Home by Spring: Poppy on Spring in London - Hallmark Channel
House Fraser Outdoor Home Spring Summer 2018 | Walkthrough HD