Photo Gallery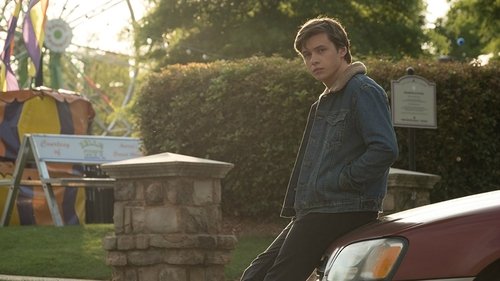 That face you make when you expect Avengers: Infinity War, Death Wish, Entebbe... anything would do except a RomCom ??‍♂️ It was either sit and watch it or go out and subject myself to Black Panther again. So I stuck it out and it was fine but it won't win any awards or be hugely popular. One surprising thing it had was a great soundtrack though! And I can't really complain, I got a free tub of vanilla fudge! That's one way to keep me happy anyway #SecretUnlimitedScreening #CineworldUnlimited #Cineworld #selfie #LoveSimon #eyeroll #cinema #film #movies
– "i said i like your-your boots!" *no response* "ok bye!" i'm so excited for this movie!! cc: gllavch sc: normascxven dt: erika & sorry for the quality rip i had to edit clips from the trailer
so addicted — cr;@cxssioqeia
@katherinelangford attends 20th Century Fox & Wingman host a NYC screening of 'Love,Simon' at Landmark Theatre on March 8, 2018 in New York City. #katherinelangford #lovesimon
#LoveSimon
Omfg omfg omfg !!!!! #secretscreening was !! And omfg !! Just as amazing as i thought it would be ! ?? hilarious and cute and sad and everything i expected but more ! I cannot wait to see this movie again.!!
Just having a casual Oreo buffet with the cast of @thefosterstv and @freeform! Catch them on Facebook Live today at 7:01PM!  #LOVESIMON
Ontem conferi o bom #filme #comamorsimon que estréia dia 5 de abril. Logo vai ter resenha lá no Facebook e o link está na bio. #cinepolis #jkiguatemi #fox #livro #movie #work #pelicula #intrinseca #love #cinema #romance #book #cupcake #cake
Ya quiero ver la película!! c:❤️ • • • • #nickrobinson #everythingeverything #insagram #cute #boy #mexico #instagood
?OH MY GOSH? check the post : @tommy.dorfman ?❤️ @[email protected] ❤️???? || #lovesimonmovie #simonvsthehomosapiensagenda #katherinelangford #tommydorfman
I ship this harder than I've ever shipped anything. Nick, please. Just. Love HIM. LOVE KEIYNAN. HE DESERVES ALL THE LOVE. .- - - #simonvsthehomosapiensagenda #lovesimontrailer #bramgreenfeld #simonspier #simonxbram #keiynanlonsdale #nickrobinson#gothboy #alternate #alternateboys #kawaii #scene #sceneboy #markiplier #jacksepticeye #fanboy #anime #wicca #wiccaboy #simonvsthehomosapiensagenda
Love Simon, amazing movie with my best @xavyeur ❤️ . #lovesimonmovie #movienight #movietime?
Who is seeing Love Simon tomorrow? • Follow me: @noblenickrobinson • @therealnickrobinson • #therealnickrobinson #nickrobinson #beingcharlie #charliemills #krystal #filmfestival #kingsofsummer #melandjoey #fifthwave #5thwave #benparish #melissaandjoey #everythingeverything #youtube #interview #best #joetoy #ryderscanlon #ollybright #hashtag #jurassicpark #zachmitchell #simonvsthehomosapiensagenda #thecavkid #gain #gaintrick #followers #love #premiere
happy love simon day ! #lovesimon
REGRAM | Dear @yasmeanyy, you inspire me. ♥️ Thank you for sharing your love story! #LOVESIMON ・・・ Meet Carmen and Rani! Two strangers brought together by a random act of kindness, only to fall in love ❤️_______________________________________________________ I'm very excited to share this beautiful love story with you guys, as I had a great time creating it w/ the help of some pretty wonderful people @jeenniferzapata @page264 @jessbessjess This is my submission to the #FirstLoveStoryContest for the movie 'Love, Simon', which I can't wait to go see (8 days left ?) _______________________________________________________ Director/Post-Production: Me, Camera Crew: me and @page264, Carmen: @jeenniferzapata , Set Design (Coffee Bar): me & @page264, Extras: @jessbessjess @page264
#lovesimon
no offense but im so excited to see this movie lol i read the book in like one day (which was like on sunday) and found a million textposts i wanted to share. also im so happy my mans keiynan lonsdale (aka wally) plays one of the mains i love him sm. dont scroll if you haven't read the book & dont wanna be spoiled. #percyjackson #simonvsthehomosapiensagenda
• THE ONLY THING I'M EXCITED FOR THIS YEAR IS THIS MOVIE! wanna watch it so badly... ? cr; batzouz • #lovesimonedit
Come experience all the feels because @lovesimonmovie is calling for tissues and comfort food. Get your tickets now as it finally hits theatres tomorrow. #LoveSimonMovie
Come experience all the feels because @lovesimonmovie is calling for tissues and comfort food. Get your tickets now as it finally hits theatres tomorrow. #LoveSimonMovie
Love, Simon: Trailers and Videos
Love, Simon - Review!
Love, Simon - Movie Review
The Cast Of 'Love, Simon' | BUILD Series
Love, Simon Interview w/ Greg Berlanti, Nick Robinson \u0026 Cast | HBO
3 NEW Love, Simon CLIPS + Trailers - Nick Robinson 2018 Movie
Nick Robinson Talks About Love, Simon
LOVE SIMON First Minutes Clip + Trailer (2018) Jennifer Garner, Teen Romantic Movie HD
Love, Simon | 'I'm Just Like You' Clip | 20th Century FOX
ADULTS REACT TO LOVE, SIMON (FULL MOVIE REACTION!)
My ONE PROBLEM With Love, Simon Explained
Love, Simon Cast: Plays The Ultimate Superlative Challenge!
Nick Robinson on His Brother Coming Out While Filming 'Love, Simon'
Love, Simon Movie Review - A Teen Romance Classic
After Watching 'Love, Simon', You Should See...
Now In Theaters: Tomb Raider, Love, Simon, I Can Only Imagine | Weekend Ticket
'Love Simon' review by Justin Chang | Los Angeles Times