A Very Merry Toy Store Posters
Photo Gallery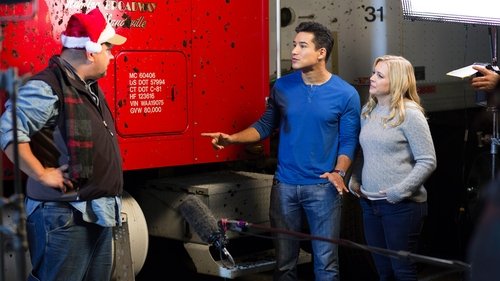 Come see me in LA on the big screen in #christmashours and on tv nov 26 in #aVeryMerryToyStore on #Lifetime with @melissajoanhart directed by my wife @paulajhart56
Behind the scenes @lifetimetv Sunday Nov 26th 8/7 Central starring @melissajoanhart @danamboyer & me as #Francine ♥️?
Everybody getting ready? Details on ' A Very Merry Toy store' on the Poster I made !! ?❄️???✨ #AVeryMerryToyStore #melissajoanhart #paulahart #sabrinatheteenagewitch #melissaandjoey #clarissaexplainsitall
This girl never ceases to amaze us and we love her!!! After getting some very exciting news... We figured we would shout out to @audreygracemarshall and talk about her upcoming film which premieres next week on lifetime!!! Check it out everyone!! A feel good holiday film!! Check your local listings!! #AVeryMerryToyStore @lifetimetv @melissajoanhart @mariolopezextra
with ya boy #jaylinfletcher as "Marshall Booter" alongside some legends as @melissajoanhart @mariolopezextra TOMORROW on @lifetimemovies @lifetimetv 8pm #fletch5
@mariolopezextra reacts watching the first trailer of his new @lifetimetv Holiday movie #AVeryMerryToyStore airing Sunday 11/26! Link to trailer in bio! #mariolopez #lifetime @melissajoanhart #melissajoanhart #holidayinhandcuffs #christmas #holidays
About #AVeryMerryToyStore (premieres on November 26 on Lifetime) ?? #MelissaJoanHart #ClarissaExplainsItAll #SabrinaTheTeenageWitch #MelissaAndJoey
NOTE: Do not try to contact me on Sunday between 8-10PM. I will be relentlessly watching @melissajoanhart and @mariolopezextra officially start the holiday season with their new #Christmas movie! Thanks @lifetimetv for making my holiday brighter! ??⛄?? #MelissaJoanHart #AVeryMerryToyStore #MarioLopez #Lifetime
airs tomorrow on @lifetimetv at 8 pm! With @melissajoanhart @mariolopezextra @macantone #briandennehy @bethabroderick @officialjaylinfletcher @tarastrong #tj #kidactor? ?
Tonight's the night! A Very Merry Toy Store will air at 8pm on Lifetime. These are a few pics taken at our house (That I took screenshots of) during filming so you can look out for it. Without giving too much of the script away, our home's owner is Melissa Joan Hart's character and her Moms house. Christmas morning, piano scenes, brunch, bedroom, kitchen, and garage scenes are all filmed at our home. We were contracted not to say anything hence the reason our names aren't mentioned on any media outlets. The local toy store, Amatos is hosting a viewing party! Also, look out for Grace, Jeremy, Sarah, James, Joshua, Lydia, and myself in the Christmas carnival scene!!!! #amatostoystore #amatos #newbritain #AVeryMerryToyStore
Raaaaaandy! Watch #AVeryMerryToyStore tonight 8pm ET on @lifetimetv #Repost @danamboyer ・・・ Can this donut worshipping giant help big sis save Christmas??! ?? catch the premiere of #AVeryMerryToyStore on @lifetimetv Nov 26 to find out!! @melissajoanhart
Tonight's the night!!! A Very Merry Toy Store airs tonight on @lifetimetv at 8pm. Watch me as Eleanor in this lovely family friendly Christmas Movie. #christmashours #lifetimemovie #melissajoanhart #mariolopez #briandennehy #mariocantone #merrychristmas #happyholidays #smile #happy #actress #nyc
World premiere of Director/Producer @paulajhart56 's tomorrow Sunday @ 8/7C on @lifetimetv (don't miss me in the diner with @tarastrong @bethabroderick and #BrianDennehy ???)
Tune in & set your DVR's! #AVeryMerryToyStore TONIGHT on @LifetimeTV!
A Very Merry Toy Store: Trailers and Videos
The Disney Toy Collector MOM reveal + Kids Bedtime Routine
A Very Merry Toy Store | Official Trailer | Premieres Sunday, November 26th at 8/7c | Lifetime
Toys \u0026 Gifts Christmas TV Ad | Asda
Geoffrey the Part Time Reindeer Toys 'R' Us UK 2017
Five simple tips to make Mickey's Very Merry Christmas Party magical
SURPRISE! WE'RE GOING TO MICKEY'S VERY MERRY CHRISTMAS PARTY AT THE MAGIC KINGDOM!
How I REALLY Feel About Christmas 🎄 || The Very Merry Christmas TAG 2017
Women Elbowed Melissa Joan Hart to get to Mario Lopez
MARIO 'A VERY MERRY TOY STORE' REACTION VID
Wrapped Up in Christmas | Official Trailer | Premieres Saturday, November 25th at 8/7c | Lifetime
Holiday Wishes 2017 Fireworks Show at Mickey's Very Merry Christmas Party WDW