Photo Gallery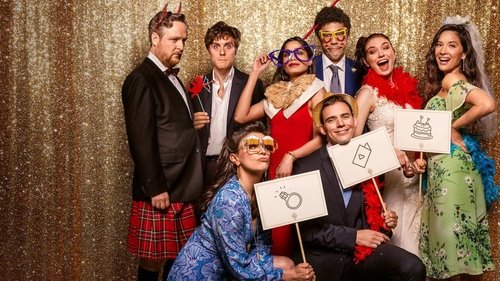 One wedding. One simple plan. What could possibly go wrong ? Watch @loveweddingrepeat april 10, only on @netflix worldwide 🌎 @weemissbea @mrsamclaflin @seapa220 #netflix #loveweddingrepeat
SWIPE 👉 to watch the trailer of "Love wedding repeat" Netflix film. Netflix is such a blessing this period 🙏 Genre - Comedy Release date - April 10 Synopsis - While trying to make his sister's wedding day go smoothly, Jack finds himself juggling an angry ex-girlfriend, an uninvited guest with a secret, a misplaced sleep sedative, and the girl that got away in alternate versions of the same day. The cast includes Olivia Munn, Sam Claflin, Aisling Bae, Frieda Pinto. And was directed and written by Dean Craig. Add to your watch list ___ Follow @moviestreat for more Tag us at #naijamovielovers and #moviestreat
UPDATES (4/6/20): GULLCOTTAGE ONLINE MEDIA HOMEPAGE - "SHELTER IN PLACE / CABIN FEVER" EDITION - WEEK #4 / * (Video) First look at Ryan Murphy's HOLLYWOOD mini-series for Netflix / TOP GUN: MAVERICK pushed back to Christmas * (Video) BEYOND THE TRAILER reviews TIGER KING * (Video) Tribute to Bill Withers (1938 - 2020) * (News) Actress Honor Blackman (GOLDFINGER / THE AVENGERS / JASON AND THE ARGONAUTS) passes away at 94 * THIS WEEK IN HISTORY: (1979) After 9 seasons the 204th (and final) episode of ALL IN THE FAMILY airs on CBS * Check out the posters for the romantic comedy LOVE. WEDDING. REPEAT - with Olvia Munn & Sam Clafin; and the drama TIGERTAIL - starring Lee Hong-chi, Christine Ko and Tzi ma; both debuting this week on Netflix (click to enlarge / twice for full screen) / For more see link in bio and @ http://gullcottageonline.com/Home_Page.html #deancraig #mrsamclafin #oliviamunn #freidapinto #tigertailfilm #alanmyang #christine_ko #tzima8 #hollywoodnetflix #mrrpmurphy #top.gun.movie #topgunmaverick #bill_withers1938 #official.hblackman #tribecafilmins #bingeclub.in  #phillyfilmsociety  #cinema  #lovecinema  #cinemalovers  #movieaddict  #cinephiles  #director  #cinefilo #gullcottageonline #craigellisjamison #themoviesneakpodcast
Hey friends, how do you feel about attending a wedding while still being in quarantine? Join us April 10th on Netflix as our rom(e)-com adventure premiers! #stayhome And on another note, so much love and gratitude for our amazing Italian crew and wishing them the best in these hard times.
One wedding. One simple plan. What could possibly go wrong? Watch #LoveWeddingRepeat April 10, only on Netflix 👰🏻👰🏼👰🏽👰🏻🤵🏻🤵🏼🤵🏻🤵🏽🤵🏾 // @netflix @netflixisajoke @netflixuk @netflixfilm @mrsamclaflin @weemissbea @eleanortomlinson @seapa220 @freidapinto @joel_fridays #TimKey #JackFarthing @tiziano.caputo
#Repost @tempo_productions · · · · New poster for Love Wedding Repeat hot off the press ! One wedding. One simple plan. What could possibly go wrong ? Coming out on Netflix 10th April ! #tempo_productions #notoriouspictures #endeavorcontent #netflix #mrsamclaflin #oliviamunn #freidapinto #eleanortomlinson #aislingbea #timkey #jackfarthing #joelfry #romcom #italy
Clearly a Love Wedding Repeat reunion at the BIFA's last night ! #mrsamclaflin #eleanortomlinson #romcom #netflix #tempo_productions #notoriouspictures
Weddings are a perfect day for everything to go horribly wrong!! @netflixfilm is dropping in 1 week so get excited for this mess of a movie to hit your screen at home 😍
Love Wedding Repeat | Official Trailer | Movie Release Date: April 10th 2020 on Netflix Troubles arise for a man when he is abruptly reunited with an old flame at his sister's wedding. #trailertime #trailertime_ #movie #film #cinema #movietrailer #filmtrailer #cinematrailer #loveweddingrepeatmovie #loveweddingrepeatmovietrailer #directedby #deancraig #starring #oliviamunn #samclaflin #aislingbea #freidapinto #eleanortomlinson #joelfry #allanmustafa #jackfarthing #timkey #producedby #notoriouspictures #tempoproductions #netflix
Netflix to the rescue! At this point, any movie is a good movie! . Love Wedding Repeat (April 10, 2020) . In this innovative romantic comedy about the power of chance, alternate versions of the same wedding unfold as Jack (Sam Claflin) tries to make sure his little sister has the perfect wedding day. But he'll have to juggle an angry ex-girlfriend, an uninvited guest with a secret, a misplaced sleep sedative, and unexpectedly reuniting with the girl of his dreams who got away, Dina (Olivia Munn). If he succeeds, Jack might find a happy ending of his own. Also starring: Eleanor Tomlinson, Joel Fry, Tim Key, Aisling Bea, Jack Farthing, Allan Mustafa, and Freida Pinto. . TMG. . #samclaflin #oliviamunn #tmgtrailers #netflixandchill
super fun trailer of this wedding film makes it one must watch from netflix in coming days. Recommendation from zoneE , movie coming out on 10.04.20 @netflix #mustwatch #netflixmovies #netflix #british #samclaflin
2 days and counting... ♥️ @loveweddingrepeat 👰🏼🤵🏻 @netflixfilm #weddingdress
Here's a pick-me-up for #lifeinquarantine. . Love Wedding Repeat, based on the 2012 French film Plan de Table, will hit your home theatre, aka @netflix this Friday! #netflix #movies #sirfcoffee #Friday #film #netflixandchill #datenight #popcorn #loveinthetimeofcorona #dating #romance #feelgood #oliviamunn #trailer #freidapinto #samclaffin #comedy #british
2 days left until we can see @mrsamclaflin in #LoveWeddingRepeat! Don't forget to join SCF for our watch party on Friday at 8pm BST
"She's in love with the boy, she's in love with the boy, she's in love with the boy. And even if they have to run away, she's gonna marry that boy someday...". #soulmates #unbreakable #romelza #meanttobetogether #real #imperfect #love #urchin #rebel #couplegoals #eleanortomlinson #aidanturner #loveisblind #leonardo #intergalactic #thenevers #poldark @official_poldark ❤️🍀🌹🥰
One of the most beautiful shot of the adorable @eleanortomlinson in coming out in 3 days on @netflix #makeupbyme💄💋 using @suqqu_uk_official @armanibeauty @bobbibrown @anastasiabeverlyhills @lancomeofficial @shuuemura #makeupdesigner #makeupartisttothestars #eyeshadowpalette #lipstick #auburneyebrows #blueyes💙 #orangebronzemakeup #bridemakeup 👰🏼#shootinginroma
The Epitome of Class❤️ Always knows how to dress her best, whether as an urchin or the red carpet #gorgeousredhair #aidanturner #favoriteginger #eleanortomlinson #greeneyes #herleprechaun #us #realchemistry #G&T #fellinloveincornwall #cliffstaring #kissesonthebeach #beachstrolls #handholding #soulmates #cozycottagefortwo #kitchentable #bluedress #nextadventure #London #lieutinentofinishmore #ordealbyinnocence #colette #attwn #wotw #themanwhokilledhitlerandthenthebigfoot @eleanortomlinson #notableclothdresshere
If there was ever a time for @netflixuk to drop a wedding film, it's NOW. Friday cannot come quick enough. #stayathome date night perfection. #Repost @netflixmy with @make_repost ・・・ Consider this your "Save the date" invite. From the writer of Death At The Funeral and starring Sam Claflin, Olivia Munn and Freida Pinto, #LoveWeddingRepeat arrives April 10. . . #netflix #ukbride #isolation #isolationdatenight #stayathomedatenight #datenight #weddingfilm #bridetobe #engaged #fiance #weddinginspo #filminspo #wedmin #misstomrs #stayathomechallenge #stayathomebride #coronabride #filmsuggestion #netflixandchill #netflixmovies
Gorgeous Red Hair 👩‍🦰 💋 #FavoriteGinge #aidanturner #eleanortomlinson #poldarklove #redlips #perfume #soulmates #facesayssomuch #London #LoveWeddingRepeat #Intergalactic #TheNevers #diary #insidesecrets😘 #g&t #us
Wondering how you're going to fill your #stayathome time over the long weekend? Inspired by dropping on @netflixuk tomorrow. We've put together these lists of the ultimate wedding films you have got to get through 🎬 let us know in the comments if we missed any? Head to our stories for our template to tick off the ones you've already seen ✅. . . . #weddingfilms #isolationfilms #engagedinisolation #engaged #shesaidyes #putaringonit #isaidyes #bridetobe #misstomrs #weddinginspo #ukbride #budgetbride #weddingplanning #weddingdecor #weddingvenue #wedmin #bridesquad #bridesmaids #hertfordshirebrides #warwickshirebrides #bridetobe2020 #weddingcake #weddinginvitations #weddinginspiration
This time last year in Rome with writer director Dean Craig and producing partner Guglielmo Marchetti - excited Love Wedding Repeat comes out tomorrow ! #tempo_productions #notoriouspictures #netflix #endeavorcontent 📸 @riccardoghilardi
The Netflix film with Eleanor (& George from Poldark!!) doesn't look that great if I'm being honest, but I can definitely see myself watching it 😂 — #EleanorTomlinson #LoveWeddingRepeat
Our next quarantine episode will be on a new #netflix film staring #poldark alums #jackfarthing and #eleanortomlinson that is out in two days time!!!
SCF will be hosting a #LoveWeddingRepeat Watch Party on Friday 10th April at 8pm BST. We hope you can join us!
Repost: @oliviamunn ・・・ Love Wedding Repeat on set shenanigans w @weemissbea + @mrsamclaflin. Our little rom com is out on @netflix this Friday, April 10.
Aflevering 140 staat voor je klaar met deze week nieuws over heel wat nieuwe release datums van Disney, Artemis Fowl naar Disney+, Ryan Reynolds in weer een gameverfilming en de nieuwe Netflix trailers van Extraction en Love,Wedding, Repeat. We sluiten af met een spoilervrije review van Ma. Veel luisterplezier! #filmfanspodcast #nieuweaflevering #aflevering140 #filmnieuws #podcast #disney #disneyplus #artemisfowl #marvel #ryanreynolds #dragonlair #game #annehathaway #netflix #octaviaspencer #ma #filmreview #moviereview #extraction #chrishemsworth #spoilervrij
‪. . Estos son algunos de los estrenos de #series y #películas en #Netflix para #Abril.‬ ‪ . 01 #NailedIt! temporada 4, #Community: temporada 1-6, #PonyoyelsecretodelaSirenita, #Susurrosdelcorazón, #ElrecuerdodeMarnie, #ResidentEvil: Vendetta, El dragón: el regreso de un guerrero temporada 2 y Salvando a Zoë.‬ ‪ . 03 #MoneyHeist temporada 4, #LaCasaDePapel: El fenómeno y Coffee & Kareem‬ . 09 #HiScoreGirl temporada 2‬ . ‪10 #LoveWeddingRepeat, ¿#ConocesaJoeBlack?‬ . ‪11 #Blindspot temporada 4‬ . ‪12 Atómica y El Seductor‬ . 15 #TheWalkingDead temporada 9 #TheInnocenceFiles, #TooHotToHandle, #OuterBanks‬ . 16 Focus: Maestros de la estafa . 17 #Sergio . 20 #TheMidnightGospel . 22 #ElSilencioDelPantano Planeta Absurdo, #ThePlaguesofBreslau y Los hermanos Willoughby‬ . 23 #LaCasaDeLasFlores temporada 3‬ . 24 #AfterLife: más allá de mi mujer temporada 2 y Misión de Rescate‬ . 26 The Last Kingdom temporada 4‬ . 27 Yo Nunca y #GuerradePapás2 . 29 Extracurricular . ‪30 #DriftingDragons, The Victims Game, #BetterCallSaul temporada 5, ‬ ‪#DangerousLies‬ . @netflixlat
3 DAYS ... #netflix
[🇬🇧] Some beautiful shots of Eleanor wearing the bride dress in "Love Wedding Repeat". [🇮🇹] Alcuni bellissimi scatti di Eleanor mente indossa l'abito da sposa in "Love Wedding Repeat". - 2🎉 __ #eleanortomlinson #eleanortitaly #tomlinson #actress #celebrity #movie #comedy #netflix #rome #samclaflin flin #movie #uk #tvserie #poldark #demelza #colette #redhair
Repost from @eleanortomlinson: Getting married wasn't stressful at all. Honestly 👀 ...and @mrsamclaflin clearly loved our reunion 😂 @loveweddingrepeat comes out on @netflix tomorrow. What a blast we had. Can't wait for you all to see it ♥️ #dreamteam #dreamjob #netflix | #samclaflin #clafliners #samclaflinfans #instagood #instadaily #likeforlikes #like4likes
👀👀 coming soon on @netflix @oliviamunn @eleanortomlinson @freidapinto @mrsamclaflin #netflix #soon
Serendipity? Chance? Coincidence? 1 year ago Lois was born. 3 sleepless days later I was meeting writer/director/tophuman Dean Craig, trying to appear intelligent. A month later Lois and I were in an edit suite in Rome cutting . 1 year later Lois turned 1 and LOVE WEDDING REPEAT is about to COME OUT ON NETFLIX. They are both delicious. This Friday. Wish away those (fully justified) pandemic blues for a brisk, funny, romantic 90+ mins with all these people in the picture being great. @freidapinto @oliviamunn @mrsamclaflin @weemissbea @joel_fridays @eleanortomlinson @seapa220 #TimKey #JackFarthing Props to @netflixfilm and the mighty @tempo_productions But bigger props to my love @winniepalmervintage who decided that going to Rome on our own with a 4 week old baby was a good idea. YOU are AMAZING ❤
I love all these cool cats and kittens so much!! And you're all invited to the wedding!!! 🥳 out April 10 on Netflix!! // @mrsamclaflin @seapa220 @freidapinto @joel_fridays @oliviamunn #TimKey #JackFarthing @eleanortomlinson @tiziano.caputo 🙌🏼 @netflix @netflixuk @netflixisajoke @netflixfilm
Love. Wedding. Repeat: Trailers and Videos
LOVE WEDDING REPEAT Official Trailer #1 (NEW 2020) Olivia Munn Comedy Movie HD
LOVE WEDDING REPEAT Trailer (2020) Olivia Munn Comedy Movie
Love Wedding Repeat Official Trailer // Reaction \u0026 Review
LOVE WEDDING REPEAT Trailer Deutsch German (2020)
LOVE WEDDING REPEAT Trailer (2020) Comedy, Romance
LOVE WEDDING REPEAT Bande Annonce VF (2020) Comédie Netflix
LOVE WEDDING REPEAT (2020) Tráiler Subtitulado En Español
Love Wedding Repeat | Official Trailer | Movies Trailers
Love Wedding Repeat – Official Trailer – TMash
LOVE WEDDING REPEAT Trailer (2020) Olivia Munn Netflix Movie HD
Любовь Свадьба Повторить (2020) - Трейлер с субт&#
Love Wedding Repeat | Official Trailer | 60FPS
LOVE WEDDING REPEAT Bande Annonce VF (2020) NETFLIX
LOVE WEDDING REPEAT- 2020 | OFFICIAL TRAILER
Love Wedding Repeat | Official Trailer | Netflix | Comedy Movie (2020) HD
Love Wedding Repeat | Official Trailer | Netflix
LOVE WEDDING REPEAT Official Trailer (2020) Olivia Munn, Sam Claflin Netflix Movie HD
Love Wedding Repeat (2020) Netflix Tráiler Oficial Subtitulado
LOVE WEDDING REPEAT Trailer (2020) Sam Claflin, Oliva Munn Netflix Movie
LOVE WEDDING REPEAT Official Trailer (2020) Sam Claflin, Olivia Munn Movie HD
Love Wedding Repeat Trailer Reaction|Netflix