Photo Gallery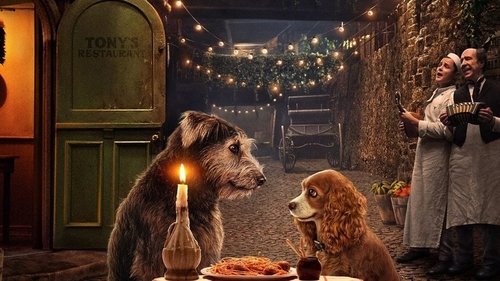 Lady and the tramp Silhouette #arts #artsandcrafts #disney #dogsofinstagram #silhouette #dog #bookstagram #giftideas #christmasdecor #homedecor #wallart #childhoodmemories #movie #cartoon #instadaily
A Great Night Uhuh Ladu and the Tramp Im waiting for the live action they used real dogs owww Hope you guys like! #draw #draws #drawning #drawings #drow #drows #art #arts #artist #animal #animals #pet #pets #dogs #dog #ladyandtramp #lovebirds #dogslove #disney #disneyladyandtramp #disneyworld
12 november 2019 @ladyandthetramp in @disneyplus 🌹 🌹☀️#disneylandparis#disney#disneyland#disneyprincess#ariel#thelittlemermaid#mermaid#disney#love#disneyfans#disneygram#ladyandthetramp#rapunzel#beautyandbeast
Today I had zero chill at work. #disneyplus
The leads of Disney's live-action Lady and the Tramp remake visited Disneyland to promote their upcoming premiere on Disney+ and it has to be the most adorable press tour ever! Will you be watching on November 12th? Photo shared by @themeparkprofessor. #leasyjames #keytotheworld #keytotheworldtravel #disneyland #sleepingbeautycastle #disney #disneyplus #liveactionremake
Ssssooooooo my first celebrity sighting here at Disney! I saw these lovely actors from Disney's Live Action "Lady and the Tramp". Rosie (Lady) and Monty (Tramp). BEST FRIDAY EVER!😭🙌🏽♥️♥️♥️♥️ I started tearing up when I saw them, I love dogs! • • • • • • • • #disneyplus #disneylifestyle #disneylifestylers #disneyinstagrammer #disneybound #disneyinsta #disneyobsessed #blackgirldisney #doglover #disneyaesthetic #instadisney #disneyinstagram
Can't wait for the upcoming live action #LadyandtheTramp on #Disney+ #popcenturyresort #wdw #disneyannualpassholder #waltdisneyworld
I felt like we were walking around the movie set of Lady and the Tramp. So romantical and cute. Perfect city to celebrate our anniversary. ⠀⠀⠀⠀⠀⠀⠀⠀⠀ ⠀⠀⠀⠀⠀⠀⠀⠀⠀ #rome #italy #romanempire #ancientrome #ancient ⠀⠀⠀⠀⠀⠀⠀⠀⠀ #anniversary #travel #romance #movieset #romantic #inlovewithrome
•lady & the tramp Christmas cards are in the shop now 🎄✨• . . . . . #disney #disneyclassic #waltdisney #disneystyle #disneycard #christmascard #christmas #christmascuties #disneydogs #disneydog #classicdisney
Lady and the Tramp fans raise your hand!! Who's excited for the remake?! 🐶 🎀We are excited to be able to watch shows like this on #Disney+ in a few short days!! . 📸: @disney #waltdisneyworld #wdw #disneyplus #magickingdom #epcot #animalkingdom #hollywoodstudios #disneysprings #disneylove #florida #orlando #california #disneyland #californiadventure #mickeymouse #disneytravelagent #universalorlandotravelagent #disneyfood #disneylife #smallbusiness #daytonohio #wdwannualpassholder #travel #themeparks #travelagent #disney #traveltips #disneyfamilyvacations
The stars of @LadyAndTheTramp had a paws-itively perfect day at @Disneyland 🐾 Stream #LadyAndTheTramp Nov. 12, only on #DisneyPlus!
#livesale #lionking #pin #pins #pinsforsale #disney #Disneypin #disneypins #disneyland #disneypins4sale #disneypinsforsale #disneypintraders #disneypintrading #stitch #thelittlemermaid #princess #dssh #dsf #ariel #belle #wdi #nbc #Aristocats #marie #101dalmatians #disneypinsales #disneyig #instadisney #disneylife
Wiped from the weekend 😴 . . . . . . . . . . #dog #puppy #schnauzer #terrier #tramp #disney #doggo #pupper #hooman #themaplekind #puppies #dogs #pup #beachpup #beach dog #beach #delmar
lady and the tramp : bunny version? #CharlieBrown #MidnaBunbun #bunnies #bunniesofig #bunniesofinstagram #bunniesworldwide #bunnylove #bunnycrazies #dwarfbunnies #brownbunnies #blackbunnies #rescuedbunnies #crazybunnylady #bunnyrabbit #rabbits #rabbitsofig #rabbitsofinstagram #rabbitsworldwide #adoptdontshop #rescue #animallover #cute #love #ladyandthetramp
@Disney's #LadyAndTheTramp was where our love for Italian food was born. _______________________ @DisneyPlus begins streaming November 12th.
Rose (Lady) and Monte (Tramp) are doing their best to contain their excitement for #LadyAndTheTramp. Start streaming Nov. 12, only on #DisneyPlus. 🍝 📸: @kkarmalove
#livesale #lionking #pin #pins #pinsforsale #disney #Disneypin #disneypins #disneyland #disneypins4sale #disneypinsforsale #disneypintraders #disneypintrading #stitch #thelittlemermaid #princess #dssh #dsf #ariel #belle #wdi #nbc #Aristocats #marie #101dalmatians #disneypinsales #disneyig #instadisney #disneylife
In honor of the new "Lady and the Tramp" movie, here is my Italian movie poster of the original! (Thanks, EBay)! #disney #disneyplus #yvettenicolebrown #italy #italia
My fam Natalie got this kick ass plate. #ladyandthetramp
Went to Box Lunch's 2nd day of their grand opening this morning at Penn Square Mall. So nice to have one only 12 min away and not 2 hours now.. I got this adorable sweatshirt. I love that they have included baby Scamp and his sisters! This is a $50 sweatshirt but I only paid $12 of my own money and I will tell you how lol the first 50 customers got a gift card worth up to $100, my husband and I both got one that were $10 so he let me have his too. I also had $15 off $30 Box Lunch Money and a $5 reward so all of that pretty much paid for it 😁 #boxlunch #disney #scamp #annette #collette #danielle #disneygirl #disneynerd #disneylover #disneyaddict #disneyforever #obsessed
When you're about to go to bed then Disney+ goes live.... . . . #disney+ #ladyandthetramp2019
.🤪 . . . . . #dog #westie #dogs #puppies #pin #pins #pinsforsale #disney #Disneypin #disneypins #disneyland #disneypintrading #stitch #thelittlemermaid #princess #dssh #dsf #ariel #belle #wdi #nbc #Aristocats #marie #101dalmatians #disneypinsales #disneyig #instadisney #disneylife
#myfirstdog #puppy #puppylove #fall #cockerspaniel #pup #spaniel #cute
#Apollo doing some #dogyoga #downwarddog with @shannonwilkins89 . #downwardfacingdog @milkbone please sponsor me! 🦴 I love sharing even more treats with my #Hooman friends. #milkbone #dogtreats #Apollothehusky #yoga #Polly #siberianhusky #husky #huskiesofinstagram #huskiesofig #huskies #huskyheaven #handsomehusky #cutehusky #WCU #locals #westchesterpa #huskylove #huskylovers #blackandwhitehusky #huskygram #dubclocals #dogsofinstagram #puppylove #officialapollothehusky
🚨 WARNING 🚨 Do to the release of Disney + tomorrow expect me to be MIA for ETERNITY!! I will be secluded in my room with boundless snacks, drinks and limit myself to 5 minute bathroom breaks. I want to apologize in advanced to my Instagram followers, my husband, friends and family as I will become a Disney + Zombie 🧟‍♂️. JUST KIDDING!! I will still post of course! But Disney + will for sure consume all of my free time?! Anyone else agree!? 📺
Big (15" wide) Lady plush with tags $8 plus shipping #toysandcollectibles #disneyana #disneyplush #plushiesofinstagram #stuffiesforsale #disneytoys #toysale #cutestuff #vintagenostalgia #perpetualsg
Strictly stay offline in social media to avoid spoilers . . @disneyplus . . Pls avoid the hashtags; #disneyplus #disney #pixar #marvel #starwars #natgeo #themandalorian #starwarstheforceawakens #obiwan #highschoolmusicaltheseries #encore #noelle #onedayatdisney #mcu #marvelstudios #falconandwintersoldier #wandavision #pixar #pixarirl #sparkshots #forkyasksaquestion #jeffgoldblum #theworldaccordingtojeffgoldblum #netflix #film #series #tvspot
@disneyplus I'm in 😱😱😍😍😍😍 everything looks beautiful @disney 🔥 🔥 🔥 #disney #disneyplus #mandalorian #ladyandthetramp
When my dogs look more like @ladyandthetramp acting dogs... who agrees?? #ladyandtramp @disneyplus @disney #disney #disneyplus
And just like that Disney+ is available to stream! Don't forget if you have the unlimited plan or fios through Verizon your first year is free. See Verizon for more details. #appletv #disneyplus #themandalorian #streamingservice #disney #hulu #espnplus