Photo Gallery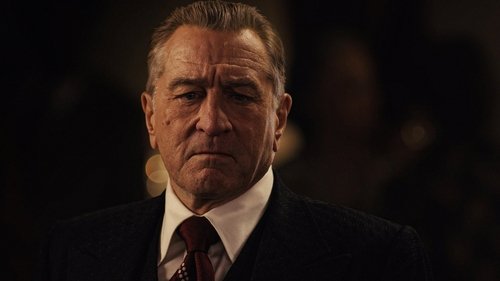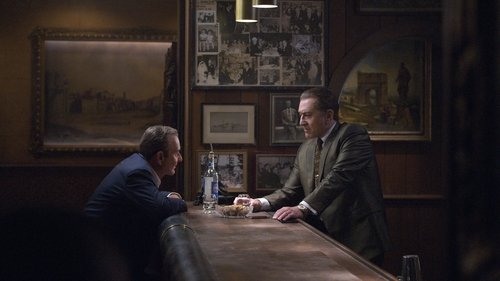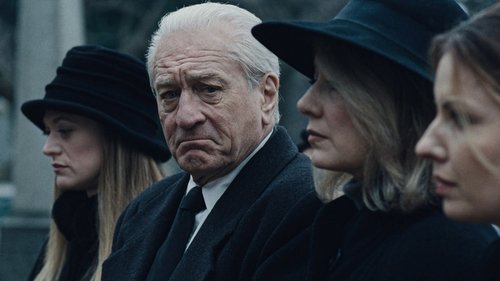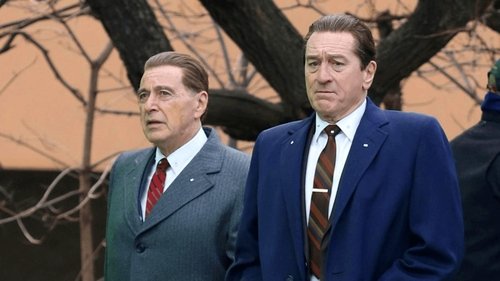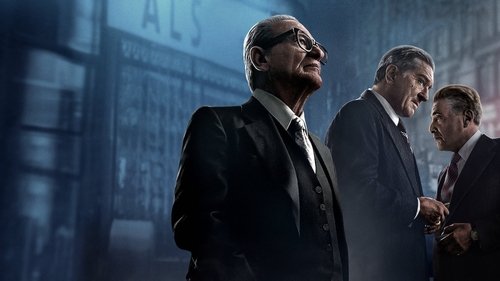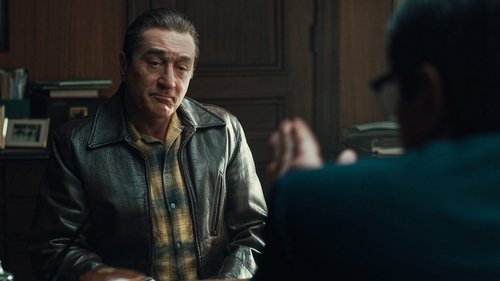 Al and Bob ❤️👋
The Irishman #theirishman#scorsese#deniro#alpacino#pesci#film#cinema#festadelcinemadiroma#netflix
Outside the famous TCL Chinese Theater in Hollywood after screening Martin Scorcese's excellent new film, "The Irishman". An amazing night thanks to Netflix. @netflix @dbandassociates @mitchhallock_kingofthenerds @bofca @criticschoice @kaleidoscopereviews @gilrobertson @lejalatino #netflix @alliedbos @netflixfilm
Al Pacino & Robert De Niro for The New York Times // 📸©️Philip Montgomery. ...
Never in a million years did I think the first film I was in would be directed by the legendary and brilliant @martinscorsese_ 🎬 Portraying one of the famous Golddigger Dancers, who danced with Dean Martin in the 60's and 70's was magical on all levels. An amazing week on set sharing a scene with Robert De Niro, Joe Pesci, Al Pacino, Bobby Cannavale, and Ray Romano (who requested I tell his fans that he had a fat suit on lol) ... thank you @michaelarnoldnyc.. pinch me! #Theirishman @theirishmanfilm
#TheIrishman
The one and only Arnold @schwarzenegger returns to the cover of Cigar Aficionado as his newest project, @terminator: Dark Fate, hits theaters. Schwarzenegger sits down with executive editor @davidsavona over a hearty #cigar and talks about the appeal of the Terminator—the role that made him a superstar—his thoughts on business and politics and his lifelong love of fine cigars. Also in this year-end issue, the story about Martin Scorsese's @theirishmanfilm, the $160 million film that brings together Robert De Niro, Al Pacino and Joe Pesci, a guide to the best cigar-friendly steakhouses in America, the mysteries of top-tier #Cognac and a walk through the fields of the Connecticut River Valley, home to golden-brown Connecticut shade. All that, and much more, plus our blind tasting of 81 #cigars.⁠ ⁠ The issue is on newsstands everywhere November 5.⁠ ⁠ ⁠ ⁠ #cigaraficionado #cigaraficionadomagazine⁠ #arnoldschwarzenegger #terminator⁠ #terminatordarkfate #illbeback⁠ #steakandcigars⁠ #connecticutshade
Monday's 🗞 • • • • • • • • • • • • #tonysoprano #sopranos #newjersey #mansion #bathrobe #italian #boss #tired #monday #rich #housegoals #newspaper #newyorktimes #nyc #newyork #godfather #italians #jamesgandolfini #acting #celebrity #actor #rip #goodfellas #thegodfather #haircut #pajamas #entrepreneur #bronxtale
How cute 😍
Look at them laughing, my heart 😂😍❤️ #robertdeniro #martinscorsese #alpacino #joepesci #throwback #nyff
🎞️🚕🎞️ ***** "On every street in every city, there's a nobody who dreams of being a somebody". ***** Arriva nelle sale italiane dal 4 al 6 novembre, in versione originale sottotitolata in italiano, distribuito dalla Cineteca di Bologna e preceduto dall'unanime plauso della stampa internazionale, '#TheIrishman', nuovo monumentale lavoro con cui #MartinScorsese torna a raccontare la mafia americana. Scopri la sala più vicina te: ➡️ bit.ly/CRalcinema_theirishman A Bologna al Cinema Lumière (prevendita online: ➡️ bit.ly/lumière_theirishman) e al Cinema Odeon (prevendita online: ➡️ bit.ly/odeon_theirishman). Per l'occasione, dal 4 al 17 novembre al Cinema Lumière, un rapido excursus della sua carriera con il 'documentario' dylaniano 'Rolling Thunder Revue' e i capolavori '#TaxiDriver', '#Queibraviragazzi' e 'Casinò'. E uno dei suoi film preferiti sulla malavita, 'Grisbi'. Omaggio anche ai tre grandi protagonisti: gli scorsesiani #RobertDeNiro e #JoePesci, e #AlPacino, poliziotto nella New York violenta di '#Serpico'. ➡️ bit.ly/lumière_intornoatheirishman . #cinetecadibologna #bobdeniro #scorsese #goodfellas #cultmovie #goodfellas #cinephiles #cinephilecommunity #cinemalovers #filmlovers #historyofcinema #instamovies
Ex-Teamsters Union President Jimmy Hoffa was last seen in public on July 30, 1975, at the Machus Red Fox restaurant in suburban Detroit. Hoffa desired a return to power, but Mob figures wanted the corrupt Frank Fitzsimmons to remain as union chief. Suspects in Hoffa's apparent murder include New Jersey mobster Salvatore Briguglio and Philadelphia hit man Frank "The Irishman" Sheeran. Sheeran's claim to have killed Hoffa is the basis of the new Martin Scorsese film #TheIrishman, due to hit Netflix on November 27. Now on display on the Museum's second floor are three artifacts connected to Jimmy Hoffa, including this bumper sticker from 1975. The Teamsters Union distributed copies of this bumper sticker in mid-August 1975, days after the union's ex-president, Jimmy Hoffa, vanished, seeking phoned-in tips on his whereabouts. The effort failed to solve the mystery of his disappearance.
Florida, Timbuktu I dress in a suit, for a meeting and you're late. Movie: The Irishman Year: 2019 Al Pacino said that to him the process of filming The Irishman was how it felt filming movies in the 1970s. With just 1 day to go, how are you preparing yourself for #TheIrishman 🍾🍿🏠
The king of all kings... Robert Freaking De Niro graces the cover of the December edition of British GQ, looking incredible as ever! 😍 •••••• 📸 Photographed by @charliegraystudio - For more daily De Niro posts, follow me @robertdenirodaily! 🎬 •••••• #robertdeniro #deniro #greatestactor #film #movies #behindthescenes #photography #britishgq #actor #legend #2000s
Congratulations to the cast and crew of @theirishmanfilm. The film has earned the #criticschoice Seal of Distinction from the Critics Choice Association! 🎥 In theaters November 1, on @netflix November 2. . . @netflixfilm @martinscorsese_ #martinscorsese #robertdeniro #alpachino #joepesci #netflix #movies #film #nowplaying #comingsoon #criticschoiceawards
Bientôt sur #Netflix . #netflix #netflixandchill #snowden #atypicalnetflix #theendofthefuckingworld #netflixseries #netflixmovies #netflixisajoke #upcomingdrama #podcast #serie #filmsandtv #film #emmys #followforfollowback #follow4followback #followbackinstantly #follow4likes #flocondamour
2 days. @theirishmanfilm #TuffGuyMedia #joepesci #robertdeniro #martinscorsese #irish #italian #mafia #alpacino #newyorkcity #newyork #manhattan #gangster #goodfellas #scarface #godfather #ragingbull #movie #hollywood #government #academyawards #power #business #family #newjersey #florida #netflix #bufalino
De Niro and Pesci... it doesn't get any better than this! 😎🔥 •••••• 📸 Repost from @theirishmanfilm 👌🏼 - For more daily De Niro posts, follow me @robertdenirodaily! 🎬 •••••• #robertdeniro #deniro #greatestactor #joepesci #film #movies #behindthescenes #actor #legend #2000s
Kilmainham Goal-interesting and sad place. #kilmainham #kilmainhamgoal #jail #history #irishhistory #museum #memory #nationalmuseum #court #courthall #Dublin #discoverdublin #dublincitycentre #dublin4all #photooftheday #sketch #sketchpic
The Irishman - In Theaters November 01 #RobertDeNiro #AlPacino #JoePesci #MartinScorsese #CharlesBrandt #IHeardYouPaintHouses #Netflix #FrankSheeran #TheIrishman #English #Biography #Crime #Drama
So yhhhhhhhh pick me up bud we're it @? #aateam #abstractart #bastrad #fortnite #fortniteleaks #fortniteaccountsforsale #worldwide #searchtfup #searchwww #fortnitelive #fortnitehill #playingfortnite #fortnitespooky #fortnitenow #fortnitechaptertwo #fortnitechapterone #fortnitechapter2 #fortniteseason9 #formal #halloweencostume #halloween #holloween2019 #wentuprise #wentworth #white #memes #yo #wasup #😝
Behind the scenes 🎬 ▫️ 🎥 :The Irishman 🍀(2019)©Netflix 🎞️ • Directed by Martin Scorsese 🎧 🔻 👣 | Follow us for more @addict.screen 📺 🔄 @cinematograph #theirishmanmovie #netflix #upcomingmovie #behindthescenes #bts #martinscorsese #Scorsese #filmdirector #filmmaker #cinematographer #robertdeniro#deniro #alpacino #pacino #joepesci #bestcast #italianamericans #gangstermovies #gangsterfilms #mafiamovies #mafiafilms #Goodfellas #casinomovie #filmart #mobmovies #crimemovie #crimedrama #gangsterstyle #mobshit
I will be seeing The Irishman in theaters tomorrow night!! I am so fucking excited that I can finally after so long see this film in theaters where it is truly meant to be seen 👏🏼🔥 •••••• 📸 Robert De Niro and Joe Pesci photographed for The Irishman, on Netflix November 27th - For more daily De Niro posts, follow me @robertdenirodaily! 🎬 •••••• #robertdeniro #deniro #greatestactor #film #movies #behindthescenes #netflix #actor #legend #joepesci #martinscorsese #2000s
It's here! The episode critics are calling "Not The Worst!" Click the link in our bio to watch the sketch! We had an absolutely unbelievably fun time with one of the best actors in the biz Paul Ben-Victor who is in the new @Martin scorsese_ @netflix movie @theirishmanfilm which hits theaters Tomorrow!! Go to 2buffoons.com to subscribe and stay up to date on all things buffoon-related HUGE THANKS TO @wearesilvernyc and @cam_darwin & @chrislane._ for filming #comedy #fun #halloween #sketchcomedy #celebrityinterviews #gethard #actors #thewire #thesopranos #dannydevito #trickortreat
Do you think Robert Deniro's LAST gangster movie will be his best?🔫 Enter to win $50 in our HEY BOBBY contest: 1. Sign up at versusgame.com (link in bio) 2. Play THE IRISHMAN game where you PREDICT which of Robert Deniro famous movies will be more popular with fans 3. Winners of the game will be entered to win $50 prize 4. Winner will be randomly drawn on Monday, November 4th 12pm PST So go play now or sleep with the fishes! . . . . #giveaway #contest #giveawayalert #contestalert #giveaways #giveawaycontest #giveawaytime #giveawayusa #giveawayindia #giveawayaustralia #contests #contesttime #robertdeniro #movies #gangstermovies #mobmovies #martinscorsese #netflix #joepesci #alpacino #quiz #quizinstagram #mobilegames #mobilegamer #igers #iger #fun #earnmoney #winprizes
The newest @2buffoons sketch is out now with the insanely talented and funny Paul Ben-Victor who is in the newest Scorsese movie, 'The Irishman' Click the link in my bio to watch! @netflix @theirishmanfilm #comedy #fun
These photos from past American Cinematheque Award ceremonies look like the start of a talent reunion for The Irishman! No de-aging here, the first photo is from 1991 and the second from 2005. The Irishman starts Friday November 1 for a two week engagement! See it on the big screen Nov 1-14. Tickets on @fandango This year the American Cinematheque Award recipient is Charlize Theron who picks up the Award November 8 at the @beverlyhilton #robertdeniro #alpacino #martinscorsese #americancinemathequeawards #amcinaward2019 Martin Scorsese photo by Lee Salem. Al Pacino photo by Berliner Studios
Actor Robert De Niro has had a decades long relationship with director Martin Scorsese. Since 1973, the pair have made nine films and one short film together, many of which are seen as the greatest films of all time. The line, "You talkin' to me?" from "Taxi Driver" has become one of the most famous lines in cinematic history. "Raging Bull" earned De Niro his first best actor Oscar and Golden Globe win as well as Scorsese's first best director Oscar nomination. A decade later "GoodFellas" was lauded as the best movie depicting organized crime since The Godfather and earned Scorsese another best director nomination. Their actor-director relationship has thrived and now nearly two and a half decades since their last feature length film together, they're reuniting for Neflix's The Irishman premiering tomorrow. Tap on the link in our bio to read our National Conversation with Robert De Niro before you see the film. Photos: 1: TAXI DRIVER, Robert De Niro, 1976; RAGING BULL, Robert De Niro, 1980, ©United Artists/courtesy Everett Collection; GOODFELLAS, Ray Liotta, Robert DeNiro, Joe Pesci, 1990, ©Warner Bros./courtesy Everett Collection • • • • • • • #RobertDeNiro #MartinScorsese #TheIrishman #JimmyHoffa #actor #netflix @theirishmanfilm @netflix #NYFF @thenyff @martinscorsese_ #film #newyorkfilmfestival #movie #newmovies #profile #magazineprofile #robertdeniroprofile #interview #celebrityinterview
Continuing our Oscar Watch series, we take a look at what November might have to offer come next February. Link to article in bio.⠀ .⠀ .⠀ .⠀ #Oscars #AcademyAwards #TheIrishman #MarriageStory #HoneyBoy #Waves #WavesMovie #FordvFerrari #TheReport #ABeautifulDayInTheNeighborhood #DarkWaters #KnivesOut #QueenAndSlim #TheTwoPopes #Netflix #Amazon #MartinScorsese #AdamDriver #ScarlettJohansson #ShiaLaBeouf #KelvinHarrisonJr #SterlingKBrown #ChristianBale #MattDamon #TomHanks #MarkRuffalo #ChrisEvans #DanielKaluuya #LauraDern