Photo Gallery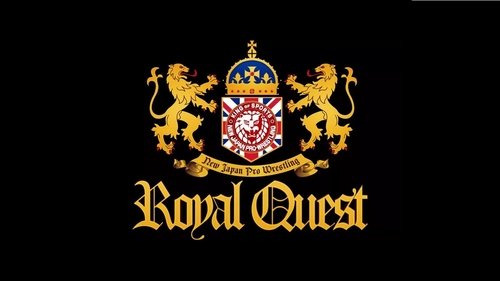 Over 13 months. 4800+ plays. We've made it past the one-year anniversary and now it's time to celebrate once again with EPISODE 100 of the Young Lion's Perspective!!! And trust me when I tell you, i'm still getting warmed up. What better way to celebrate the 100th episode of the podcast than with a preview and predictions episode of the Greatest Day Of Professional Wrestling In 2019 as I make my picks for who will have their hands raised this Saturday when AEW All Out, NJPW Royal Quest and NXT UK Takeover: Cardiff look to give us a day we will never forget. Yes, I made picks for every single match on all three cards including who I think will meet each other to crown the first-ever AEW Women's World Champion on October 2nd, Kazuchika Okada defending his IWGP Heavyweight Championship against a very game Minoru Suzuki, Walter looking to go 3-for-3 against British Strong Style as he defends his WWE UK Championship against former UK Champion, Tyler Bate, and in what could be the most important match of the weekend, I make my pick for who will become the first-ever AEW World Champion when Adam Page finally goes one-on-one with Chris Jericho. Tell me who you think will have their hands raised this weekend in the comments. Sound off on my voice messages at anchor.fm/younglionsperspective and you might get that message featured on an episode of the YLP Podcast. You can also check out the podcast on Apple Podcasts, Google Podcasts, Castbox, Overcast, RadioPublic, Stitcher Radio, and of course, Spotify! Thank you everyone for riding with me for 100 episodes and get ready for 100 more! Episode 101 is coming your way this Thursday with the NXT Review!
• At TakeOver XXV, it was announced that on August 31st, NXT UK TakeOver: Cardiff will be taking place. That means that AEW, WWE, and NJPW all have an event the exact same day 👀 I don't really care much for the NXT UK brand, but still might see this TakeOver just to see how it stands against the two events it will be essentially competing against. What a day for wrestling this will be! ——————— #wwe #aew #allelitewrestling #newjapanprowrestling #njpw #aewallout #nxtuk #wwenxtuk #nxt #nxttakeover #nxtuktakeovercardiff #aewworldchampionship #chrisjericho #hangmanpage #kazuchikaokada #prowrestling
Tickets secured for what is bound to be a hell of a show!
#newpic for #superjcup #bulletclub #hdbngclub #njpw and #NJPWRoyalQuest show love to #elphantasmo @elpwrestling my 👻 daddy purchase at pw tees
It looks like August 31st will be a busy day for all wrestling fans! In addition to @allelitewrestling last week officially confirming that #AllOut is coming back to Chicago, @wwenxt #UK has officially announced #nxtuktakeovercardiff! Not only that, @njpw1972 previously announced for #London. 3 wrestling events on one day! #TooSweetCosplay being primarily based in #Chicago is looking to attend #AllOut in addition to @starrcastevents, but the other two shows should be great. To you, our beloved followers, which show are you most excited for of the 3? - STVO #AEW #NXT #NXTUK #NJPW ————————————— Like /Follow #TooSweetCosplay on ALL SOCIAL MEDIA! Facebook: www.toosweetcosplay.com Twitter: http://bit.ly/2LlU6ud Instagram: http://bit.ly/2Wkt2fT YouTube: http://bit.ly/2V1agZz Showcasing Wrestling Cosplay. Wrestling Fanart. Wrestling Discussion. Wrestling Meet-Ups. And Much More!
Our Pre-order section just got an upgrade! 🔥 bit.ly/2F0SU6Y #ShopRevPro #NJPW #NJCup #BulletClub #Okada #Yano
Here's the talent announced so far for the the Royal Quest show in August. #njpwRoyalQuest
🙇‍♂️Next Saturday will make your head spin! ⭐️STARRCAST Tales of @RealMickFoley -11am EST @CMPunk headlines at 1pm EST #NJPWRoyalQuest at 12:30pm EST THEN THE BIG ONE! @allelitewrestling #ALLOUT! (for fans outside the 🇺🇸) 📅Go to FITE.TV and see our amazing schedule!
August 31st a night for the Pro-Wrestling fans @allelitewrestling #allout @wearenxtuk #cardifftakeover #takeovercardiff @njpw1972 Which show will you be watching. Let's us know? #the_turnbuckle_club @the_turnbuckle_club #allelitewrestling #wearenxt #wearenxtuk #njpw #njpw1972 #nxttakeover #nxttakeovercardiff #wwe #aew #aewwrestling #aewdon #aewallout #doubleornothing #nxtuk #nxt25 #wweuniverse #aewchicago #aewallin
Guerrillas of Destiny will defend the IWGP Heavyweight Tag Team Championships against the winners of the @revprouk Road to Royal Quest tournament on August 31st at Royal Quest. #njpwRoyalQuest
Auguts 31st is going to be a busy day for wrestling fans....
In three months time, NXT Takeover: War Games III will be coming hard and fast and NXT did their damn job in beginning that road on last night's episode! On Episode 99, of the Young Lion's Perspective it's all about last night's episode of NXT including the Undisputed Era declaring that the Undisputed Prophecy will still be fulfilled in 2019, Mia Yim going one-on-one with Vanessa Borne as she tries to gain momentum back after her loss to Shayna Baszler at Takeover: Toronto II, a Takeover-worthy video package hyping up Keith Lee vs Dominik Dijakovic II, and in the main event, fresh off of their impromptu brawl at Takeover, Matt Riddle and Killian Dain finally get to settle their differences inside the squared circle. Make sure to share this episode if you enjoyed it and don't hesitate to tell a friend to tell a friend about the Young Lion's Perspective. If you don't happen to have the Anchor app, no worries! You can still find this episode across several different platforms including Apple Podcasts, Google Podcasts, Castbox, Overcast, Stitcher Radio, and of course, Spotify! Episode 99 1/2 which will cover NXT UK's episode from yesterday will dropping this weekend! And y'all better get ready for Episode 100 will be coming your way this Monday as I preview and make my predictions for NXT UK Takeover: Cardiff, NJPW Royal Quest and AEW All Out!
Reposted from @njpwworld_official (@get_regrann) - #NJPWRoyalQuest will be broadcast on New Japan World in September, as will Super J-Cup. A little wait, but throw in #njDestruction live as well, and you have a stacked September lineup on njpwworld.com Subscribe to #NJPWWorld - Only ¥999 per month (Approx $9.00 US) #Sjcup #newjapanprowrestling #njpw #njpwworld #新日本プロレス #新日本プロレスワールド #プロレス - #regrann
Royal Quest Lionmark T-shirt Now Available for Pre-Order bit.ly/2F0SU6Y #ShopRevPro #RevPro #NJPW #NJCup #NJPWRoyalQuest
10 days & counting until London with the boys @revprouk #summersizzler & @njpw #okada #tanahashi #suzukigun
On the eve of NJPW "ROYAL QUEST" in London, @revprouk books a huge main event for their annual summer showdown at York Hall, "SUMMER SIZZLER 2019" on August 30th! IWGP Heavyweight Champion Kazuchika Okada & Hiroshi Tanahashi vs. Suzuki-gun - Minoru Suzuki & RPW British Heavyweight Champion Zack Sabre Jr. Other notable matches: RPW Road to Royal Quest Tag Tournament Final Match - "Aussie Open" Mark Davis & Kyle Fletcher vs. Josh Bodom & Sha Samuels. (winners to face Guerrillas of Destiny for the IWGP Tag Team Championship at Royal Quest) RPW British Cruiserweight Championship Match - El Phantasmo (C) vs. Michael Oku. Career vs. Company Match - David Starr vs. Will Ospreay. #RevProUK #RPW #SummerSizzler #njpwRoyalQuest #Rainmaker #KazuchikaOkada #IWGP #heavyweightchampion #CHAOS #HiroshiTanahashi #GoAce #MinoruSuzuki #kazeninare #Suzukigun #ichiban #ZackSabreJr. #ZSJ #G1Climax29 #WrestleKingdom14 #NJPWworld #NJPW #newjapanprowrestling #新日本プロレス #puroresu #Japan 🗾 #prowrestling #プロレス #オカダカズチカ #鈴木軍 #鈴木みのる
Royal quest just got better. It will be the baddest king on the planet @suzuki.d.minoru vs the rainmaker @rainmakerxokada 2. Now what should I watch live for god's sake? See all out or royal quest or takeover Cardiff? #kingisback #njpw #kazuchikaokoda #royalquest #njpwroyalquest
Royal Quest will be broadcast on New Japan World in September, as will Super J-Cup. A little wait, but throw in Destruction live as well, and you have a stacked September lineup on njpwworld.com #NJPWRoyalQuest #Sjcup #njdestruction #newjapanprowrestling #njpw #njpwworld #新日本プロレス #新日本プロレスワールド #プロレス
🌏They tore up Australia against, one another. Now they team, to tear up the UK! @robbieeagles_ 🇦🇺 & @willospreay 🇬🇧 face Taiji Ishimori & El Phantasmo at #NJPWRoyalQuest, which is exclusively LIVE on #FITETV, and 48 hrs after! Aug 31|12:30pm EST 💳https://t.co/ofXvB9kTxt
Royal Quest will be broadcast on New Japan World in September. A little wait, but throw in Destruction live as well, and you have a stacked September lineup on njpwworld.com #NJPWRoyalQuest #Sjcup #njdestruction #newjapanprowrestling #njpw #njpwworld #新日本プロレス #新日本プロレスワールド #プロレス
Only THREE DAYS until New Japan Pro Wresting's "Royal Quest" event takes place on August 31st!! This event will be in London, England with four I said FOUR title matches scheduled!! **IWGP TAG TEAM TITLES::currently held by brothers Tama Tonga and Tanga Loa(G.O.D) this match will be their 5th title defense! **NEVER OPENWEIGHT TITLE:: currently held by Tomohiro Ishii he will defend his title against Kenta this will be Ishii's 1st defense! **BRITISH HEAVYWEIGHT TITLE:: currently held by Zach Sabre Jr. he will defend his title against Hiroshi Tanahashi! **IWGP HEAVYWEIGHT CHAMPIONSHIP TITLE:: currently held by Kazuchika Okada he will defend his title against Minoru Suzuki; this will be his 3rd defense! **SUBSCRIBE::: https://njpwworld.com What a fantastic card!! I cant wait to see how the matches will go and what kind of wild twists will take place!! #NJPW #NJPWRoyalQuest #London #njpwworld #TitleMatches #BritishHeavyweight # #IWGPHeavyweightChampionshipTitle #NeverOpenweight #TagTeamTitles
Reposted from @njpwworld_official (@get_regrann) - Royal Quest will be broadcast on New Japan World in September, as will Super J-Cup. A little wait, but throw in Destruction live as well, and you have a stacked September lineup on njpwworld.com #NJPWRoyalQuest #Sjcup #njdestruction #newjapanprowrestling #njpw #njpwworld #新日本プロレス #新日本プロレスワールド #プロレス - #regrann
@revprouk "Summer Sizzler 2019" started with the IWGP Heavyweight Championship contract signing between champion Kazuchika Okada and challenger Minoru Suzuki for tomorrow's NJPW "Royal Quest" in London. Afterwards, the young lions broke up a tense confrontation between the two. 📷@beyondgorilla #SummerSizzler #RevPro #njpwRoyalQuest #MinoruSuzuki #kazeninare #ichiban #ichiban #kingofpancrase #PancraseMission #Rainmaker #KazuchikaOkada #IWGP #heavyweightchampion #CHAOS #Okada #themanthatmakesitrainmoney #NJPWworld #NewJapan #NJPW #newjapanprowrestling #新日本プロレス #ROH #puroresu #Japan 🗾 #prowrestling #プロレス #オカダカズチカ #鈴木軍 #鈴木みのる
⏳With less than a week away from @njpwglobal #NJPWRoyalQuest, we have a massive main event, of @rainmakerxokada defending against legendary, @suzuki.d.minoru ! Will titles change hand on UK soil? Go to our Twitter or Facebook page and VOTE! Let us know and tune in! It's exclusively on #FITETV
Really looking forward to this match at Royal Quest next Saturday. #njpwRoyalQuest
This weekend is gonna be so awesome. #RevProUK #AllEliteWrestling #NXTUK #njpwRoyalQuest #SummerSizzler #ALLOUT #TakeoverCardiff